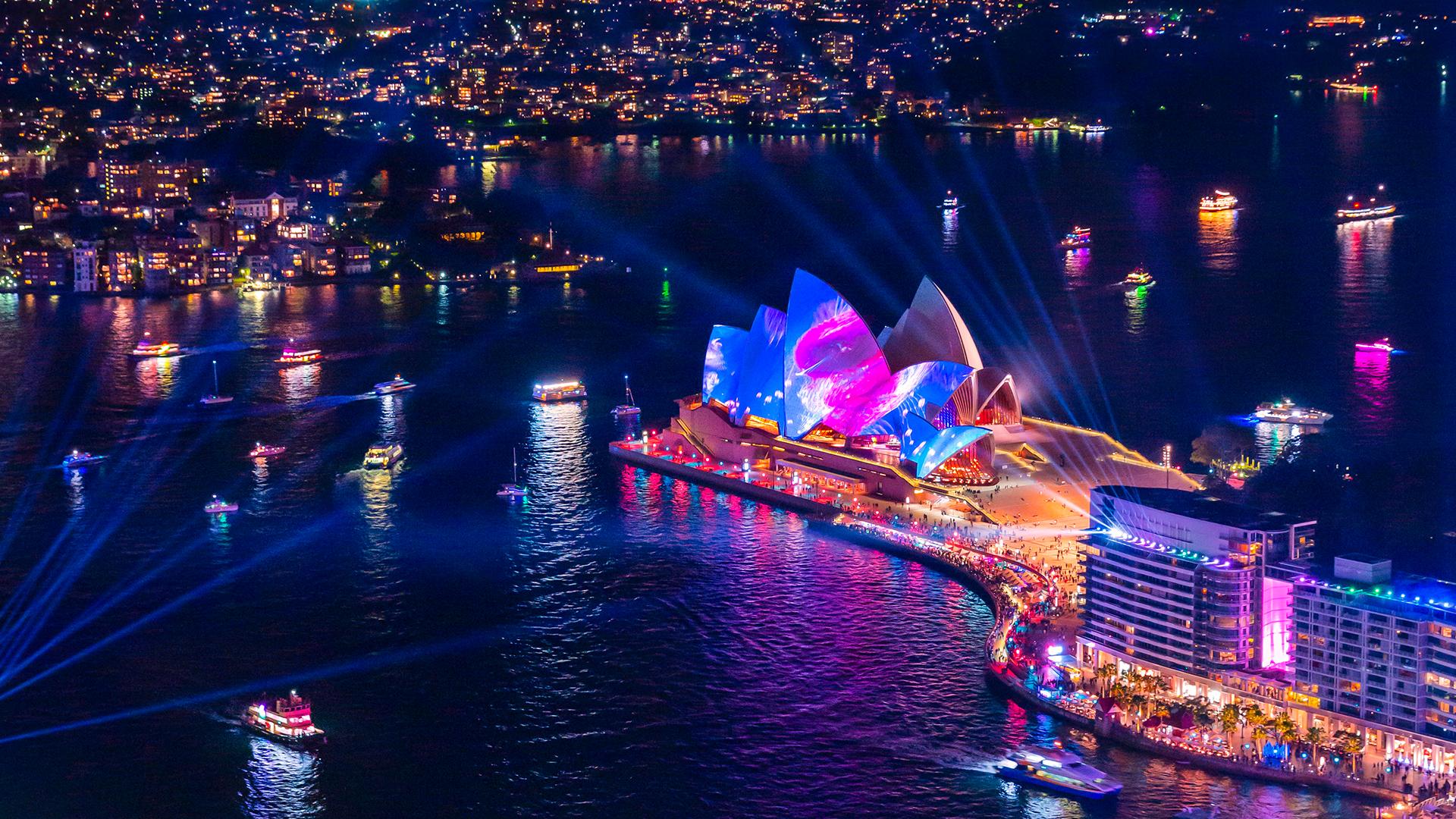 Vivid Sydney 2021: Festival Harbour Cruise with Welcome Drink & Dinner
See one of the world's most iconic cities in a whole new light on a 1.5-hour cruise during the spectacular Vivid Sydney festival. Beat the crowds and enjoy the best seat in the house from a prime location right on Sydney Harbour, where you can see the action unfold from the ship's open sky deck. Simply sit back, relax and watch as a spectrum of colours light up the city, while enjoying a delicious buffet dinner onboard.
The most vibrant, exciting festival of light and sound in the Southern Hemisphere, Vivid Sydney invites a team of visionary light artists to transform the city skyline to a curated soundtrack, resulting in a true feast for the senses that attracts more than two million visitors per year.
Your experience includes:
A 1.5-hour Vivid Sydney cruise with Sydney Princess Cruises
Indulge with a freshly prepared hot buffet dinner onboard
Be greeted with a welcome drink on arrival (beer, glass of wine or soft drink)
Enjoy a front-row onboard seat to the Vivid Sydney festival of light and sound
holiday Options
Inclusion highlights:
Package valid for one person (Monday–Thursday)
1.5-hour Vivid Sydney cruise with Sydney Princess Cruises
Freshly prepared buffet dinner onboard
Welcome drink on arrival (beer, wine or soft drink)
Inclusion highlights:
Package valid for one person (Monday–Thursday)
1.5-hour Vivid Sydney cruise with Sydney Princess Cruises
Freshly prepared buffet dinner onboard
Welcome drink on arrival (beer, wine or soft drink)
Inclusion highlights:
Package valid for one person (Friday–Sunday)
1.5-hour Vivid Sydney cruise with Sydney Princess Cruises
Freshly prepared buffet dinner onboard
Welcome drink on arrival (beer, wine or soft drink)
Inclusion highlights:
Package valid for one person (Friday–Sunday)
1.5-hour Vivid Sydney cruise with Sydney Princess Cruises
Freshly prepared buffet dinner onboard
Welcome drink on arrival (beer, wine or soft drink)