1 to 21 Nights
packages available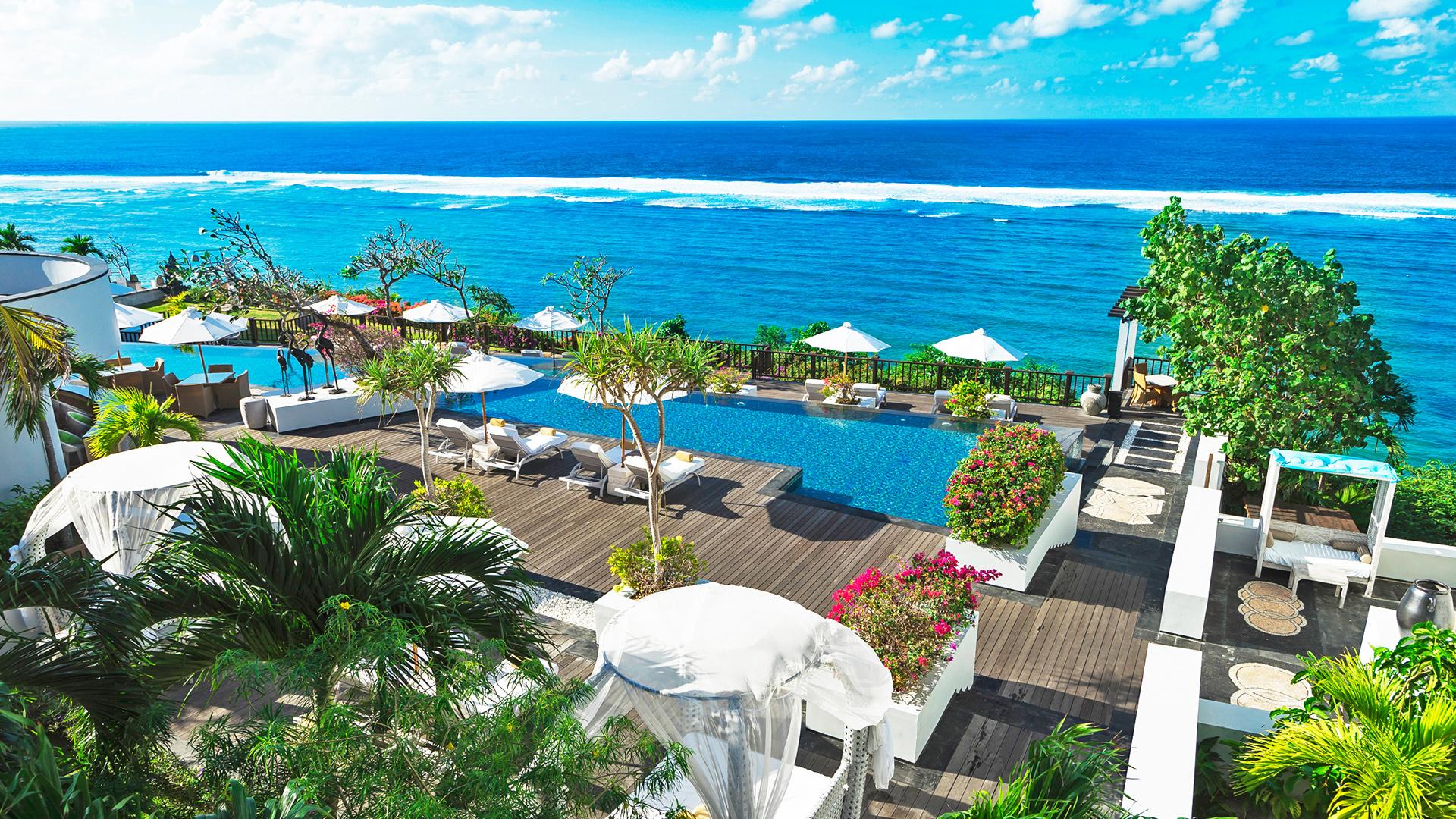 Samabe Bali Suites & Villas
Five-Star Clifftop Nusa Dua Escape with 24-Hour Butler Service, Daily Breakfast & Cocktails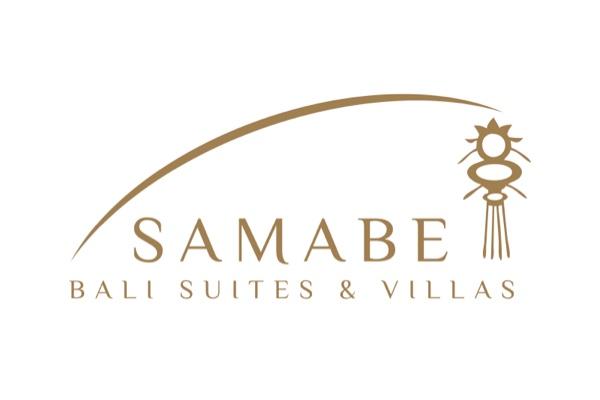 Take luxury to new heights with an indulgent clifftop stay at Samabe Bali Suites & Villas. Floating on top of a cliff in sensational Nusa Dua, with panoramic views of the Indian Ocean, the five-star beach resort is a destination in itself, ensconced in eight hectares of tropical greenery and opening onto a private white-sand, azure-water beach. Other Balinese towns are just a short drive away, but with everything you need at your fingertips, you'll find little reason to leave.
Every lodging at Samabe Bali Suites & Villas comes with ocean views as standard, inspiring relaxation from the very second you walk into the Balinese-inspired interior. You won't be lost for activities: sip on a cocktail by the waterfront infinity pool, embrace your inner chef with cooking classes or explore the azure waters with stand-up paddleboarding or snorkelling. Spa savants will feel their troubles melt away with treatments at Galangal Spa, while yogis can find balance in mind and body with daily yoga classes. Whatever your form of relaxation, your butler can organise everything for you – the 24-hour service means someone is always on hand to make dinner reservations, arrange activities and refresh your room whenever you want.
Luxury Escapes inclusions (select nights)
Start the Samabe experience with a welcome drink, gift and cold towel upon check-in
Wake up with a daily buffet and à la carte breakfast served at Rempah-Rempah Restaurant or in the privacy of your suite or villa
Sip a complimentary cocktail per person while admiring the sunset every evening
Don't even think about lifting a finger – 24-hour butler service will look after your every need
Get into the holiday mood with a 60-minute in-room massage treatment for two
Stay hydrated with daily free-flowing non-alcoholic drinks by the pool or at any of the restaurants and bars
Never be without a drink with a complimentary minibar, re-stocked daily with beer and soft drinks
Enjoy afternoon tea served daily by the water at Samabe Beach Cave
Align your chakras with daily yoga classes
Work up a sweat at the gym or with fitness classes
Learn more about the Balinese culture through a cooking class
Embrace your inner merman or mermaid with unlimited use of non-motorised water sports, including catamaran, kayak, windsurfing, snorkelling and stand-up paddleboarding
Start your descent into relaxation with a cucumber eye cooling mask at 3pm each day
Indulge in a sweet treat at 3pm every day, with complimentary fruit and ice cream for the kids by the pool
Arrive and depart in style with return private airport transfers (for stays of at least 3 nights)
Comfort sore muscles with an additional in-room 60-minute massage treatment for two (total two treatments per person, for stays of at least 3 nights)
Explore the diversity of Asian cuisine with a choice of lunch or dinner at one of the hotel's restaurants (for stays of at least 5 nights)
Sink into true relaxation with an additional in-room 60-minute massage treatment for two (total three treatments per person, for stays of at least 5 nights)
Sample some of the region's finest produce with a dinner for two (for stays of at least 7 nights)
Break up the day with a fresh lunch for two at one of the hotel's dining options (for stays of at least 7 nights)
All-inclusive upgrade available: choose the all-inclusive option and enjoy daily breakfast, lunch and dinner plus free-flow cocktails, beers, house wine and standard spirits between 5pm and midnight, and a daily 60-minute massage per adult.
Travelling with family? For a little extra space, choose the Two-Bedroom Pool Villa for four, complete with two bathrooms, a separate lounge room and private pool.
1 to 21 Nights packages available
holiday Options

Select your holiday type
Ocean Front Samabe Suite
A picturesque panorama of the Indian Ocean is the bewitching backdrop to the Ocean Front Samabe Suite, where space is in no short supply. Between the king bed, stand-alone bathtub and luxuriously large balcony, you'll have plenty of room to relax
Size: 135 m²
Option 1
BALI SUITE ESCAPE
Daily buffet and à la carte breakfast served at Rempah-Rempah Restaurant or in the privacy of your suite
One daily sunset cocktail per person
One 60-minute in-room massage treatment per person
24-hour butler service
Daily free-flowing non-alcoholic drinks at any of the restaurants and bars
Complimentary minibar, restocked daily with beer and soft drinks
Afternoon tea served daily at Samabe Beach Cave
Daily yoga classes at the beach
Access to gym, fitness classes and selection of cultural activities, such as cooking classes
Unlimited use of non-motorised water sports, including catamaran, kayak, windsurfing, snorkelling and stand-up paddleboarding.
Daily turndown service and fresh fruit in your room
Daily cucumber eye cooling mask at 3pm by the pool
Daily fruit and ice cream for the kids by the pool
Check-in: 2pm / Checkout: 12 noon
Inclusions valid for up to two people
Option 2
BALI SUITE ESCAPE
Daily buffet and à la carte breakfast served at Rempah-Rempah Restaurant or in the privacy of your suite
One daily sunset cocktail per person
One 60-minute in-room massage treatment per person
24-hour butler service
Daily free-flowing non-alcoholic drinks at any of the restaurants and bars
Complimentary minibar, restocked daily with beer and soft drinks
Afternoon tea served daily at Samabe Beach Cave
Daily yoga classes at the beach
Access to gym, fitness classes and selection of cultural activities, such as cooking classes
Unlimited use of non-motorised water sports, including catamaran, kayak, windsurfing, snorkelling and stand-up paddleboarding.
Daily turndown service and fresh fruit in your room
Daily cucumber eye cooling mask at 3pm by the pool
Daily fruit and ice cream for the kids by the pool
Check-in: 2pm / Checkout: 12 noon
Inclusions valid for up to two people
Ocean Front Samabe Pool Suite
Ocean Front Samabe Pool Suite
Gaze over the Indian Ocean from your private pool, before retiring to your dining table for a sensational spread, organised by your butler. It's all possible in the Ocean Front Samabe Pool Suite
Size: 180 m²
Option 1
POOL SUITE UPGRADE
Daily buffet and à la carte breakfast served at Rempah-Rempah Restaurant, in the privacy of your suite or in your private pool as a 'Floating Breakfast'
One daily sunset cocktail per person
One 60-minute in-room massage treatment per person
24-hour butler service
Daily free-flowing non-alcoholic drinks at any of the restaurants and bars
Complimentary minibar, restocked daily with beer and soft drinks
Afternoon tea served daily at Samabe Beach Cave
Daily yoga classes at the beach
Access to gym, fitness classes and selection of cultural activities, such as cooking classes
Unlimited use of non-motorised water sports, including catamaran, kayak, windsurfing, snorkelling and stand-up paddleboarding.
Daily turndown service and fresh fruit in your room
Daily cucumber eye cooling mask at 3pm by the pool
Daily fruit and ice cream for the kids by the pool
Check-in: 2pm / Checkout: 12 noon
Inclusions valid for up to two people
Option 2
POOL SUITE UPGRADE
Daily buffet and à la carte breakfast served at Rempah-Rempah Restaurant, in the privacy of your suite or in your private pool as a 'Floating Breakfast'
One daily sunset cocktail per person
One 60-minute in-room massage treatment per person
24-hour butler service
Daily free-flowing non-alcoholic drinks at any of the restaurants and bars
Complimentary minibar, restocked daily with beer and soft drinks
Afternoon tea served daily at Samabe Beach Cave
Daily yoga classes at the beach
Access to gym, fitness classes and selection of cultural activities, such as cooking classes
Unlimited use of non-motorised water sports, including catamaran, kayak, windsurfing, snorkelling and stand-up paddleboarding.
Daily turndown service and fresh fruit in your room
Daily cucumber eye cooling mask at 3pm by the pool
Daily fruit and ice cream for the kids by the pool
Check-in: 2pm / Checkout: 12 noon
Inclusions valid for up to two people
One Bedroom Ocean Pool Villa
One Bedroom Ocean Pool Villa
Live out your villa dreams with a walk-through dressing room, separate living space, private pool and jaw-dropping views of the ocean
Size: 265 m²
Option 1
POOL VILLA UPGRADE
Daily buffet and à la carte breakfast served at Rempah-Rempah Restaurant, in the privacy of your villa or in your private pool as a 'Floating Breakfast'
One daily sunset cocktail per person
One 60-minute in-room massage treatment per person
24-hour butler service
Daily free-flowing non-alcoholic drinks at any of the restaurants and bars
Complimentary minibar, restocked daily with beer and soft drinks
Afternoon tea served daily at Samabe Beach Cave
Daily yoga classes at the beach
Access to gym, fitness classes and selection of cultural activities, such as cooking classes
Unlimited use of non-motorised water sports, including catamaran, kayak, windsurfing, snorkelling and stand-up paddleboarding.
Daily turndown service and fresh fruit in your room
Daily cucumber eye cooling mask at 3pm by the pool
Daily fruit and ice cream for the kids by the pool
Check-in: 2pm / Checkout: 12 noon
Inclusions valid for up to two people
Option 2
POOL VILLA UPGRADE
Daily buffet and à la carte breakfast served at Rempah-Rempah Restaurant, in the privacy of your villa or in your private pool as a 'Floating Breakfast'
One daily sunset cocktail per person
One 60-minute in-room massage treatment per person
24-hour butler service
Daily free-flowing non-alcoholic drinks at any of the restaurants and bars
Complimentary minibar, restocked daily with beer and soft drinks
Afternoon tea served daily at Samabe Beach Cave
Daily yoga classes at the beach
Access to gym, fitness classes and selection of cultural activities, such as cooking classes
Unlimited use of non-motorised water sports, including catamaran, kayak, windsurfing, snorkelling and stand-up paddleboarding.
Daily turndown service and fresh fruit in your room
Daily cucumber eye cooling mask at 3pm by the pool
Daily fruit and ice cream for the kids by the pool
Check-in: 2pm / Checkout: 12 noon
Inclusions valid for up to two people
Two Bedroom Ocean Pool Villa
Two Bedroom Ocean Pool Villa
There's space for the whole family in the Two Bedroom Ocean Pool Villa, with two separate bedrooms, multiple living spaces and a private terrace and pool, all designed with elegance and style in mind
Size: 298 m²
Option 1
TWO-BEDROOM POOL VILLA UPGRADE
Daily buffet and à la carte breakfast served at Rempah-Rempah Restaurant, in the privacy of your villa or in your private pool as a 'Floating Breakfast'
One daily sunset cocktail per person
One 60-minute in-room massage treatment per person
24-hour butler service
Daily kids' club
Welcome surprise for children, including sarong and rucksack
Daily free-flowing non-alcoholic drinks at any of the restaurants and bars
Complimentary minibar, restocked daily with beer and soft drinks
Afternoon tea served daily at Samabe Beach Cave
Daily yoga classes at the beach
Access to gym, fitness classes and selection of cultural activities, such as cooking classes
Unlimited use of non-motorised water sports, including catamaran, kayak, windsurfing, snorkelling and stand-up paddleboarding.
Daily turndown service and fresh fruit in your room
Daily cucumber eye cooling mask at 3pm by the pool
Daily fruit and ice cream for the kids by the pool
Check-in: 2pm / Checkout: 12 noon
Inclusions valid for up to four people
Option 2
TWO-BEDROOM POOL VILLA UPGRADE
Daily buffet and à la carte breakfast served at Rempah-Rempah Restaurant, in the privacy of your villa or in your private pool as a 'Floating Breakfast'
One daily sunset cocktail per person
One 60-minute in-room massage treatment per person
24-hour butler service
Daily kids' club
Welcome surprise for children, including sarong and rucksack
Daily free-flowing non-alcoholic drinks at any of the restaurants and bars
Complimentary minibar, restocked daily with beer and soft drinks
Afternoon tea served daily at Samabe Beach Cave
Daily yoga classes at the beach
Access to gym, fitness classes and selection of cultural activities, such as cooking classes
Unlimited use of non-motorised water sports, including catamaran, kayak, windsurfing, snorkelling and stand-up paddleboarding.
Daily turndown service and fresh fruit in your room
Daily cucumber eye cooling mask at 3pm by the pool
Daily fruit and ice cream for the kids by the pool
Check-in: 2pm / Checkout: 12 noon
Inclusions valid for up to four people
Two Bedroom Penthouse Pool Villa
Two Bedroom Penthouse Pool Villa
The Two-Bedroom Penthouse Pool Villa takes luxury up a level – literally! Unparalleled views over the Indian Ocean are only the beginning – a dedicated luggage room, two opulent bedrooms, two distinct outdoor spaces and a private pool make for an indulgent and intimate escape
Size: 285 m²
Option 1
TWO-BEDROOM PENTHOUSE UPGRADE
Daily buffet and à la carte breakfast served at Rempah-Rempah Restaurant, in the privacy of your penthouse or in your private pool as a 'Floating Breakfast'
One daily sunset cocktail per person
One 60-minute in-room massage treatment per person
24-hour butler service
Daily kids' club
Welcome surprise for children, including sarong and rucksack
Daily free-flowing non-alcoholic drinks at any of the restaurants and bars
Complimentary minibar, restocked daily with beer and soft drinks
Afternoon tea served daily at Samabe Beach Cave
Daily yoga classes at the beach
Access to gym, fitness classes and selection of cultural activities, such as cooking classes
Unlimited use of non-motorised water sports, including catamaran, kayak, windsurfing, snorkelling and stand-up paddleboarding.
Daily turndown service and fresh fruit in your room
Daily cucumber eye cooling mask at 3pm by the pool
Daily fruit and ice cream for the kids by the pool
Check-in: 2pm / Checkout: 12 noon
Inclusions valid for up to four people
Option 2
TWO-BEDROOM PENTHOUSE UPGRADE
Daily buffet and à la carte breakfast served at Rempah-Rempah Restaurant, in the privacy of your penthouse or in your private pool as a 'Floating Breakfast'
One daily sunset cocktail per person
One 60-minute in-room massage treatment per person
24-hour butler service
Daily kids' club
Welcome surprise for children, including sarong and rucksack
Daily free-flowing non-alcoholic drinks at any of the restaurants and bars
Complimentary minibar, restocked daily with beer and soft drinks
Afternoon tea served daily at Samabe Beach Cave
Daily yoga classes at the beach
Access to gym, fitness classes and selection of cultural activities, such as cooking classes
Unlimited use of non-motorised water sports, including catamaran, kayak, windsurfing, snorkelling and stand-up paddleboarding.
Daily turndown service and fresh fruit in your room
Daily cucumber eye cooling mask at 3pm by the pool
Daily fruit and ice cream for the kids by the pool
Check-in: 2pm / Checkout: 12 noon
Inclusions valid for up to four people