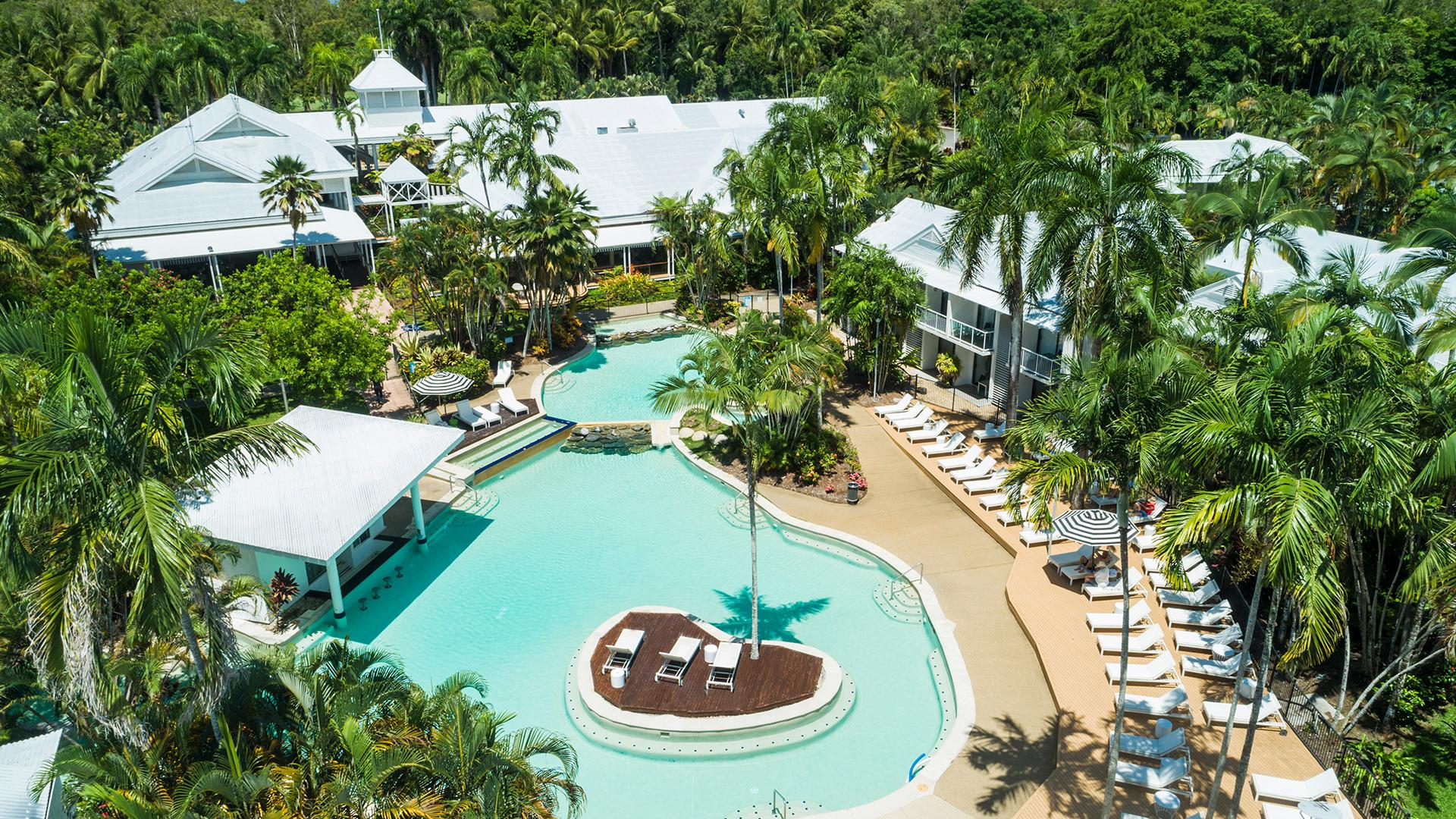 Oaks Port Douglas Resort Feb 2021
Tropical Port Douglas Escape near Four Mile Beach with Daily Breakfast

The warm climate and sandy beaches of Tropical North Queensland beckon with a stay at Oaks Port Douglas Resort, a relaxing oasis surrounded by lush gardens, a five-minute drive from iconic Four Mile Beach. Couples will love the resort's modern rooms with private balconies and spacious one-bedroom apartments, while families can make themselves at home in a self-contained two-bedroom apartment.
This sun-soaked property will allow you to truly immerse yourself in the laidback lifestyle of Port Douglas – your launchpad to the UNESCO World Heritage-listed Great Barrier Reef and Daintree Rainforest. Embark on incredible adventures amid nature from the nearby marina, walk the pristine white sands of Four Mile Beach and discover the beauty of vibrant Port Douglas, filled with award-winning dining and boutique shopping.
Your handpicked inclusions:
Wake up to delicious, tropical-inspired daily breakfast at Oak & Vine Restaurant
Celebrate your escape with a bottle of wine on arrival
Relax on your final day with guaranteed 12pm checkout
Travelling with family? Upgrade to an ultra-spacious Two-Bedroom Garden View Apartment, offering serene views and a fully equipped kitchenette, for two adults and two children (aged 12 years and under).
Ultimate Upgrade: Choose an Ultimate package for an even more unforgettable experience. You'll enjoy private transfer on arrival between Cairns Airport and Oaks, and embark on an incredible full-day cruise on the Great Barrier Reef onboard Australia's most awarded reef cruise, Quicksilver. Spend a full day exploring the Great Barrier Reef, enjoy a tropical buffet lunch, learn more about the reef with the help of a marine biologist and snorkel the crystal-clear waters of Agincourt Reef. Plus, back at the resort, you'll enjoy A$50 food and drinks credit to spend at the onsite restaurant and bars. Ultimate Upgrades are valid for two adults; Ultimate Family Upgrades are valid for two adults and two children (aged 12 years and under).
holiday Options
Select your holiday type
Hotel Room Garden View
Soak up serene views over the tropical gardens from this spacious room, complete with private balcony and modern amenities
Room Size: 27 m²
Inclusion highlights:
Daily breakfast at Oak & Vine Restaurant
Bottle of wine on arrival
Guaranteed 12pm checkout
Check-in: 2pm
Package valid for up to two adults
ONE-BEDROOM APARTMENT UPGRADE
One-Bedroom Garden View Apartment
Feel at home in this spacious one-bedroom apartment, boasting a fully equipped kitchenette, a generous living area and a private balcony with garden views
Room Size: 54 m²
Inclusion highlights:
Daily breakfast at Oak & Vine Restaurant
Bottle of wine on arrival
Guaranteed 12pm checkout
Check-in: 2pm
Package valid for up to two adults
Two-Bedroom Garden View Apartment
Unwind in absolute comfort in this beautifully designed and ultra-spacious two-bedroom apartment for four, with living and dining areas and a private balcony with garden views
Room Size: 81 m²
Inclusion highlights:
Daily breakfast at Oak & Vine Restaurant
Bottle of wine on arrival
Guaranteed 12pm checkout
Check-in: 2pm
Package valid for two adults and two children (aged 12 years and under)
Hotel Room Garden View
Soak up serene views over the tropical gardens from this spacious room, complete with private balcony and modern amenities
Room Size: 27 m²
Inclusion highlights:
Private arrival transfer from Cairns Airport to Port Douglas with meet-and-greet service
One-time full-day Great Barrier Cruise with snorkelling, semi-submersible experience and lunch
A$50 food and drinks credit per package to use at the resort's restaurant and bars
Daily breakfast at Oak & Vine Restaurant
Bottle of wine on arrival
Guaranteed 12pm checkout
Check-in: 2pm
Package valid for up to two adults
ONE-BEDROOM ULTIMATE UPGRADE
One-Bedroom Garden View Apartment
Feel at home in this spacious one-bedroom apartment, boasting a fully equipped kitchenette, a generous living area and a private balcony with garden views
Room Size: 54 m²
Inclusion highlights:
Private arrival transfer from Cairns Airport to Port Douglas with meet-and-greet service
One-time full-day Great Barrier Cruise with snorkelling, semi-submersible experience and lunch
A$50 food and drinks credit per package to use at the resort's restaurant and bars
Daily breakfast at Oak & Vine Restaurant
Bottle of wine on arrival
Guaranteed 12pm checkout
Check-in: 2pm
Package valid for up to two adults
Two-Bedroom Garden View Apartment
Unwind in absolute comfort in this beautifully designed and ultra-spacious two-bedroom apartment for four, with living and dining areas and a private balcony with garden views
Room Size: 81 m²
Inclusion highlights:
Private arrival transfer from Cairns Airport to Port Douglas with meet-and-greet service
One-time full-day Great Barrier Cruise with snorkelling, semi-submersible experience and lunch
A$50 food and drinks credit per package to use at the resort's restaurant and bars
Daily breakfast at Oak & Vine Restaurant
Bottle of wine on arrival
Guaranteed 12pm checkout
Check-in: 2pm
Package valid for two adults and two children (aged 12 years and under)