1 to 21 Nights
packages available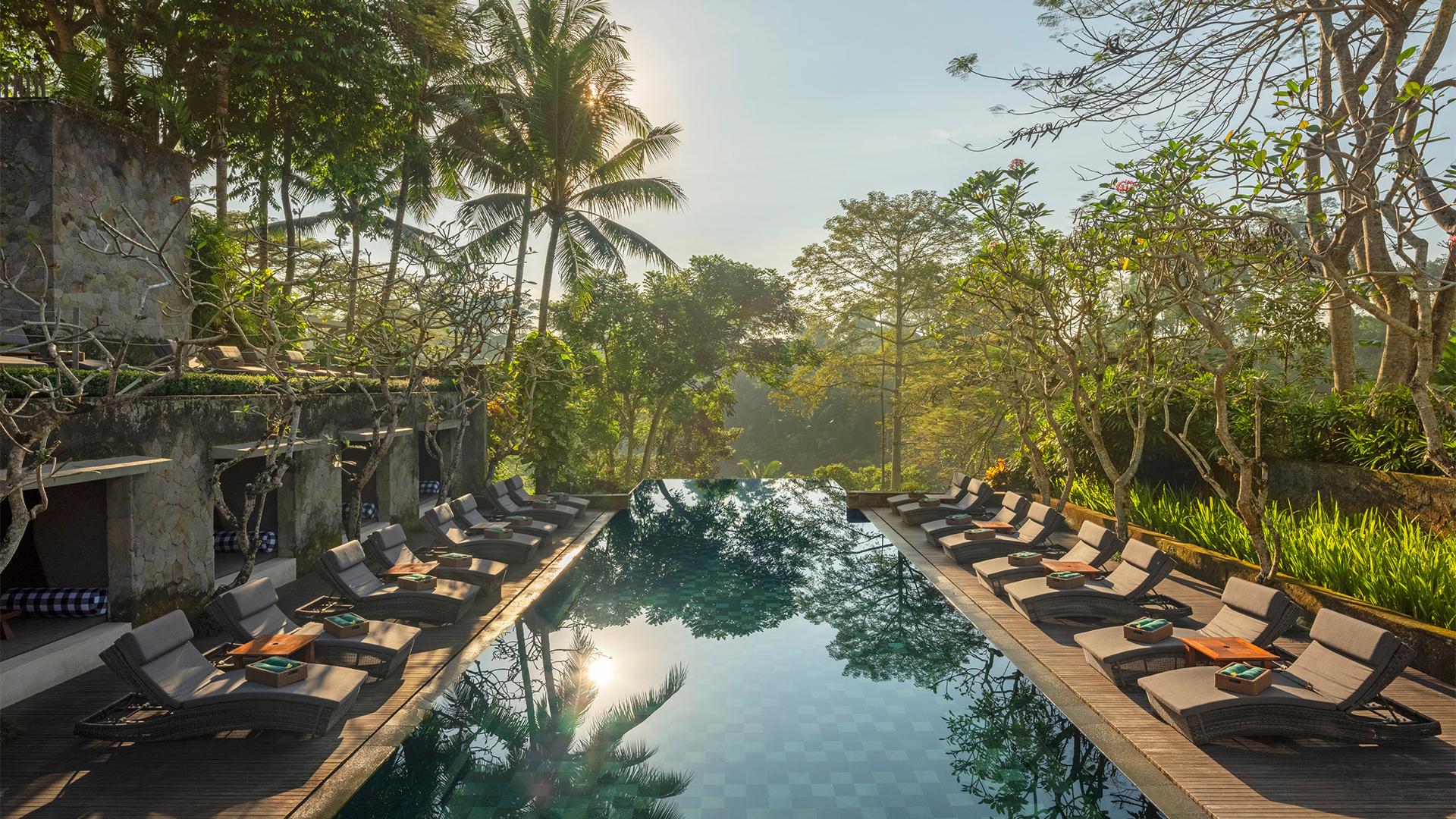 Maya Ubud Resort & Spa
Serene Five-Star Ubud Retreat with Daily Breakfast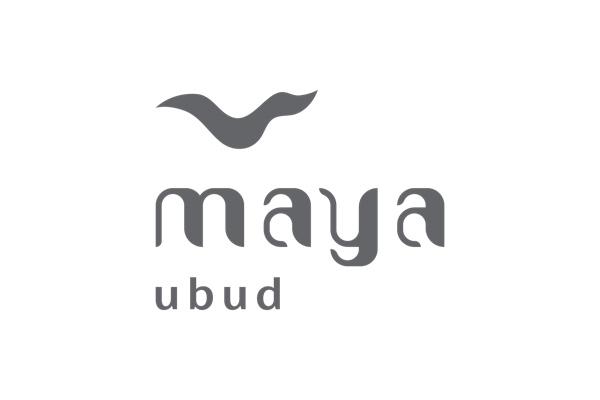 Indulge in the ultimate feeling of five-star bliss at the breathtaking Maya Ubud Resort & Spa – a stunning Balinese sanctuary that offers guests complete serenity. Cradled by the dramatic Petanu River valley and the rolling rice paddies of Peliatan, Maya Ubud is a jewel within a tranquil 10-hectare tropical haven. From here, it's a leisurely 25-minute stroll to vibrant Ubud town, bursting with artisan markets, colourful boutiques and world-class restaurants.
Designed to capture the spirit of a traditional Balinese village, this ultra-luxe retreat combines local elegance and hospitality with a true five-star experience. Reconnect with nature and plunge into the glistening infinity pool overlooking the enchanting forest, experience euphoria at Maya Spa with a rejuvenating treatment beside the swirling waters of Petanu River, or spend each morning aligning your chakras at the tranquil Bale Raga Yoga Studio. Live the good life in a carefully designed suite or villa, beautiful spaces bathed in natural light and boasting verdant vistas across the lush surrounds.
Luxury Escapes inclusions (select nights)
Wake up to delicious daily à la carte or buffet breakfast
Daily refreshing cocktail per adult (for stays of 2+ nights)
Explore Ubud's lush rice paddies on a 1.5-hour cycling adventure (for stays of 2+ nights)
Unwind with daily afternoon tea (for stays of 2+ nights)
Enjoy an extra day in paradise with leisurely late 6pm checkout (for stays of 2+ nights)
Experience ultimate bliss with a 60-minute Balinese massage for two at Spa at Maya (for stays of 3+ nights)
Align your chakras with a one-hour private yoga lesson (for stays of 3+ nights)
Enjoy a private transfer between Maya Ubud and Maya Sanur when staying at both properties (for stays of 3+ nights)
Relax with a 30-minute reflexology treatment for two at Spa at Maya (for stays of 5+ nights)
One-time three-course dinner for two at your choice of Maya's luxury restaurants (for stays of 7+ nights)
One-way private airport transfer (for stays of 7+ nights)
Return private airport transfers (for stays of 10+ nights)
Pool villa upgrade available: Plunge into your own private pool when you choose a Heavenly Pool Villa.
Travelling with family or friends? Choose the Heavenly Two Bedroom Pool Villa for four.
1 to 21 Nights packages available
holiday Options

Select your holiday type
Impressive Forest Suite
A relaxing retreat bathed in natural light with stylish amenities designed to complement the elegant décor. Enjoy a peaceful night's sleep on the plush king bed, soak away your stresses in the lavish bathtub or capture verdant vistas across the lush rice paddies from the luxury of your own private balcony
Size: 48 m²
Option 1
SERENE ESCAPE (NON-REFUNDABLE)
Wake up to daily delicious à la carte or buffet breakfast
Check-in: 2pm / Checkout: 12pm
Inclusions valid for up to four adults
Option 2
SERENE ESCAPE (REFUNDABLE)
Wake up to daily delicious à la carte or buffet breakfast
Check-in: 2pm / Checkout: 12pm
Inclusions valid for up to two adults
Impressive Forest Corner Suite
Impressive Forest Corner Suite
Unwind in a spacious suite with generous sitting area and private balcony. Enjoy a peaceful night's sleep on the plush king bed, soak away your stresses in the lavish bathtub or capture verdant vistas across the lush rice paddies from the luxury of your own private balcony
Size: 56 m²
Option 1
CORNER SUITE UPGRADE (NON-REFUNDABLE)
Wake up to daily delicious à la carte or buffet breakfast
Check-in: 2pm / Checkout: 12pm
Inclusions valid for up to four adults
Option 2
CORNER SUITE UPGRADE (REFUNDABLE)
Wake up to daily delicious à la carte or buffet breakfast
Check-in: 2pm / Checkout: 12pm
Inclusions valid for up to two adults
Heavenly Jacuzzi Villa
Beautifully refurbished to emphasise the traditions of Balinese design, each Heavenly Jacuzzi Villa is set amid lush tropical landscape. Enjoy serene river valley views from your private deck and gaze out to the verdant surrounds from your lavish jacuzzi bath
Size: 245 m²
Option 1
JACUZZI VILLA UPGRADE (NON-REFUNDABLE)
Wake up to daily delicious à la carte or buffet breakfast
Check-in: 2pm / Checkout: 12pm
Inclusions valid for up to four adults
Option 2
JACUZZI VILLA UPGRADE (REFUNDABLE)
Wake up to daily delicious à la carte or buffet breakfast
Check-in: 2pm / Checkout: 12pm
Inclusions valid for up to two adults
Heavenly Pool Villa
Treat yourself to elevated luxury in a beautifully refurbished Heavenly Pool Villa, complete with Balinese-inspired interior that extends out to the luxury decking with private plunge pool and jacuzzi
Size: 360 m²
Option 1
POOL VILLA UPGRADE (NON-REFUNDABLE)
Wake up to daily delicious à la carte or buffet breakfast
Check-in: 2pm / Checkout: 12pm
Inclusions valid for up to four adults
Option 2
POOL VILLA UPGRADE (REFUNDABLE)
Wake up to daily delicious à la carte or buffet breakfast
Check-in: 2pm / Checkout: 12pm
Inclusions valid for up to two adults
Heavenly Two Bedroom Pool Villa
Heavenly Two Bedroom Pool Villa
An idyllic retreat aesthetically attuned to its paradisiacal surrounds. Defined by a stunning infinity-edge swimming pool and open-air bath, the ample space of this tropical haven is perfect for groups or families
Size: 385 m²
Option 1
TWO-BEDROOM POOL VILLA UPGRADE (NON-REFUNDABLE)
Wake up to daily delicious à la carte or buffet breakfast
Check-in: 2pm / Checkout: 12pm
Inclusions valid for up to four adults
Option 2
TWO-BEDROOM POOL VILLA UPGRADE (REFUNDABLE)
Wake up to daily delicious à la carte or buffet breakfast
Check-in: 2pm / Checkout: 12pm
Inclusions valid for up to four adults