1 to 7 Nights
packages available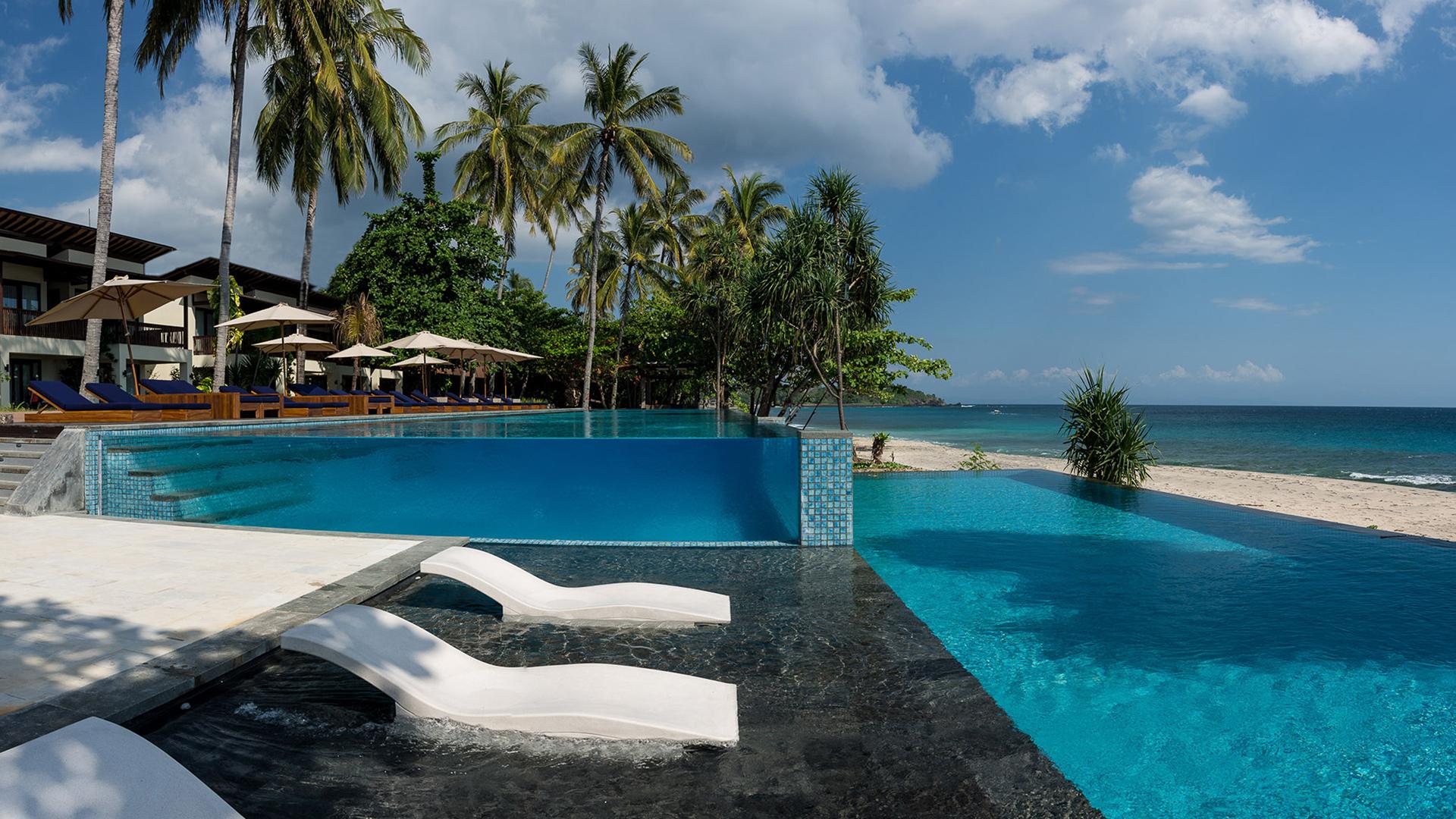 Katamaran Hotel & Resort
Idyllic Lombok Beachfront Retreat with Daily Breakfast & Nightly Cocktails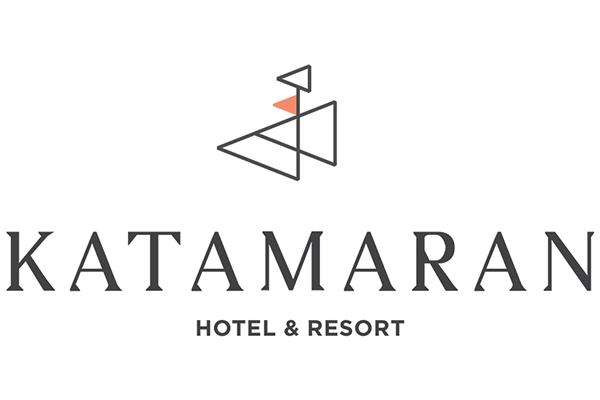 High-end relaxation just got a little closer: welcome to Katamaran Hotel & Resort, a tropical oasis hidden on Bali's pristine sister island, Lombok. This decadent destination combines hypnotic beauty and absolute beachfront vistas with designer sophistication — think strolls along Mangsit Beach's unspoiled shoreline, dips in the glass beachfront infinity pool and sunset cocktails in one of the sunken oceanfront booths, surrounded by aquamarine water and flame torches.
Experience a stay where nothing is out of reach: lounge in a swinging daybed at the pool (complete with kids' area), find your flow with yoga by the beach and discover true relaxation in ocean-facing spa treatment rooms. Let romance find you along the shore at The Sail Café & Bistro, where you can watch the sun melt into the Bali Sea and let your cares recede with the shoreline. As for exploration... Senggigi's tourist strip is effortlessly accessible and optional excursions to the kaleidoscopic Gili Islands, 'pink beach' and Mount Rinjani — an active volcano and Indonesia's second-highest peak — are available to book at reception.
Luxury Escapes inclusions (select nights)
Days in this tropical paradise begin with breakfast at The Sail Café & Bistro
Kick back with a daily lemongrass martini or cosmopolitan per person at The Sail Café & Bistro
Unwind with one 30-minute back or foot massage per adult at Soul Bliss Spa
Your choice of one à la carte lunch or dinner for two at The Sail Café & Bistro (for stays of 3+ nights)
Savour an additional à la carte lunch or dinner for two at The Sail Café & Bistro (for stays of 5+ nights)
Prefer twin bedding? Choose the Premier Twin Room, available at no extra cost.
Pool Villa Upgrade available: Plunge into pristine luxury in this sprawling villa, featuring your very own private infinity pool and secluded courtyard area.
1 to 7 Nights packages available
holiday Options

Select your holiday type
Premier King Room
Elegant, contemporary room with a king bed and private balcony or terrace affording views to Lombok Strait and Mount Agung
Size: 50 m²
Option 1
BEACHFRONT KING ESCAPE (NON-REFUNDABLE)
Daily breakfast for two at The Sail Café & Bistro
One daily cocktail per adult at The Sail Café & Bistro (lemongrass martini or cosmopolitan)
One 30-minute back or foot massage per adult at Soul Bliss Spa
Check-in: 2pm / Checkout: 12pm
Inclusions valid for up to two people
Option 2
BEACHFRONT KING ESCAPE (REFUNDABLE)
Daily breakfast for two at The Sail Café & Bistro
One daily cocktail per adult at The Sail Café & Bistro (lemongrass martini or cosmopolitan)
One 30-minute back or foot massage per adult at Soul Bliss Spa
Check-in: 2pm / Checkout: 12pm
Inclusions valid for up to two people
Premier Twin Room
Elegant, contemporary room with twin single bedding and private balcony or terrace affording views to Lombok Strait and Mount Agung
Size: 50 m²
Option 1
BEACHFRONT TWIN ESCAPE (NON-REFUNDABLE)
Daily breakfast for two at The Sail Café & Bistro
One daily cocktail per adult at The Sail Café & Bistro (lemongrass martini or cosmopolitan)
One 30-minute back or foot massage per adult at Soul Bliss Spa
Check-in: 2pm / Checkout: 12pm
Inclusions valid for up to two people
Option 2
BEACHFRONT TWIN ESCAPE (REFUNDABLE)
Daily breakfast for two at The Sail Café & Bistro
One daily cocktail per adult at The Sail Café & Bistro (lemongrass martini or cosmopolitan)
One 30-minute back or foot massage per adult at Soul Bliss Spa
Check-in: 2pm / Checkout: 12pm
Inclusions valid for up to two people
Ocean-View King Suite
Breathe in the revitalising ocean breeze with a private balcony affording absolute views over the glistening Lombok Strait and Mount Agung
Size: 55 m²
Option 1
OCEAN-VIEW SUITE UPGRADE (NON-REFUNDABLE)
Daily breakfast for two at The Sail Café & Bistro
One daily cocktail per adult at The Sail Café & Bistro (lemongrass martini or cosmopolitan)
One 30-minute back or foot massage per adult at Soul Bliss Spa
Check-in: 2pm / Checkout: 12pm
Inclusions valid for up to two people
Option 2
OCEAN-VIEW SUITE UPGRADE (REFUNDABLE)
Daily breakfast for two at The Sail Café & Bistro
One daily cocktail per adult at The Sail Café & Bistro (lemongrass martini or cosmopolitan)
One 30-minute back or foot massage per adult at Soul Bliss Spa
Check-in: 2pm / Checkout: 12pm
Inclusions valid for up to two people
One-Bedroom Tropical Pool Villa
One-Bedroom Tropical Pool Villa
Huge villa offering contemporary sophistication with a private pool, courtyard and outdoor bathroom with shower
Size: 90 m²
Option 1
POOL VILLA UPGRADE (NON-REFUNDABLE)
Daily breakfast for two at The Sail Café & Bistro
One daily cocktail per adult at The Sail Café & Bistro (lemongrass martini or cosmopolitan)
One 30-minute back or foot massage per adult at Soul Bliss Spa
Check-in: 2pm / Checkout: 12pm
Inclusions valid for up to two people
Option 2
POOL VILLA UPGRADE (REFUNDABLE)
Daily breakfast for two at The Sail Café & Bistro
One daily cocktail per adult at The Sail Café & Bistro (lemongrass martini or cosmopolitan)
One 30-minute back or foot massage per adult at Soul Bliss Spa
Check-in: 2pm / Checkout: 12pm
Inclusions valid for up to two people