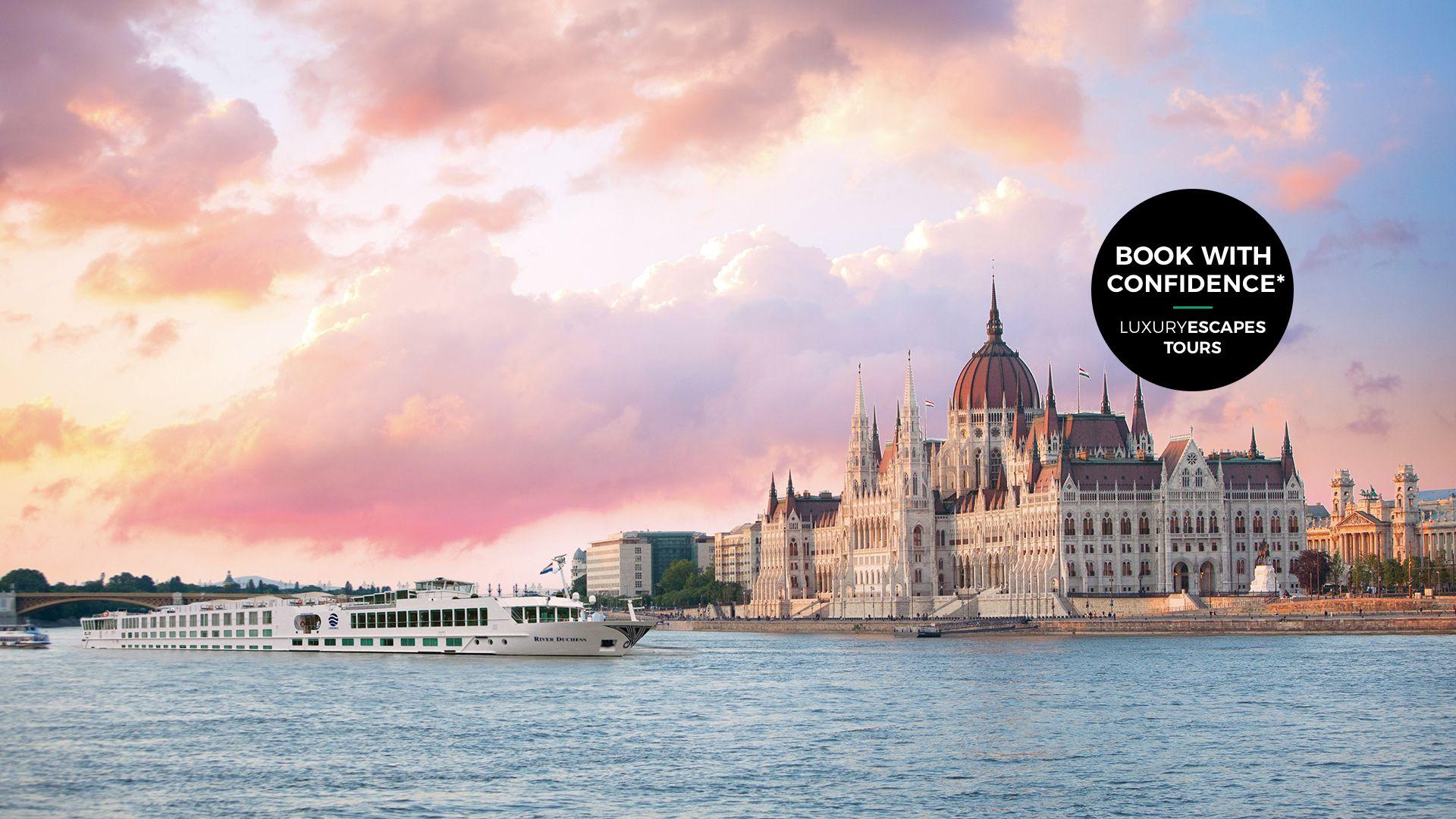 Exclusive Uniworld Charter 2023: 16-Day All-Inclusive Luxury European River Cruise from Amsterdam to Budapest
Experience the ultimate European escape with a blissfully indulgent and carefree 16-day all-inclusive river cruise through the Netherlands, Germany, Austria and Hungary in a bespoke partnership with Uniworld. Travelling onboard the luxurious River Duchess, accompanied by a dedicated Uniworld Cruise Manager, succumb to the arresting panoramas, lush vineyards, charming villages and medieval ruins as you gently traverse Europe's most storied waterways.
Departing 17 June 2023 from Amsterdam, allow yourself to be transported to another time as you glide through landscapes seemingly lifted straight from a fairytale. En route to Budapest, discover the true essence of each fascinating destination in unparalleled comfort, knowing everything is taken care of each step of the way. Offering an unmatched level of personal attention, with one of the best staff-to-guest ratios on the river (one staff member to 2.3 guests), delight in unlimited premium spirits and wines throughout, delicious five-star farm-to-table cuisine, your choice of carefully curated excursions, all gratuities onboard, shipwide Wi-Fi, scheduled airport transfers and much more.
With personalised, industry-leading service and a wealth of meticulously crafted sightseeing experiences included, exclusive to Luxury Escapes guests, the only limit is your imagination.
✔️ Book with confidence You can rest easy knowing that should you not be able to travel as a result of Government travel restrictions, even right up to the day of departure, Luxury Escapes will assist you with a date change, provide you with a credit or process a refund for your booking. See Fine Print for full terms and conditions.
Your cruise includes:
15 nights of luxury accommodation onboard the River Duchess, in your choice of spacious staterooms and suites with ensuite bathroom and river views
Daily all-inclusive gourmet breakfast, lunch and dinners as per itinerary
All-inclusive alcoholic drinks onboard – including premium spirits, cocktails, beer, premium wines hand-picked by onboard sommeliers from the local region
Welcome dinner and the Captain's extravagant Farewell Gala
24-hour room service available throughout your cruise
The services of an experienced Uniworld Cruise Manager and English-speaking onboard crew members
All sightseeing and entrance fees as detailed in the itinerary, including authentic cultural experiences exclusive to Uniworld — all fully hosted by English-speaking local experts with state-of-the-art Quietvox portable audio-headset systems
24-hour concierge service available throughout your cruise
Complimentary shipwide Wi-Fi, bicycle and Nordic walking sticks throughout the journey
All port taxes, gratuities, onboard local entertainment and cultural enrichment
Airport transfers on arrival and departure days
Your journey takes you from Amsterdam, Netherlands to: Cologne, Germany— Rüdesheim — Frankfurt (Heidelberg) — Wertheim — Würzburg — Cruising the Main River — Kitzingen (Rothenburg) — Bamberg — Nuremberg — Cruising the Main-Danube Canal — Regensburg — Passau — Weissenkirchen (Melk), Austria — Vienna — Budapest, Hungary.
16 Days from
Twin Share
Valued up to A$14,299
holiday Options
TWIN SHARE — CLASSIC STATEROOM (EARLY BIRD)
16 Days from
Valued up to A$14,299
Inclusion highlights:
Inclusions valid for one person (twin share) – you MUST purchase TWO packages
15 nights of ultimate luxury in a Classic Stateroom onboard Uniworld's River Duchess
Daily all-inclusive gourmet breakfast, lunch and dinners as per itinerary
All-inclusive alcoholic drinks onboard
Welcome Dinner and Farewell Gala
Uniworld Cruise Manager and English-speaking crew members
All sightseeing and entrance fees as detailed in the itinerary
24-hour in-room service available throughout your cruise
24-hour concierge service available throughout your cruise
Complimentary Wi-Fi, bicycle and Nordic walking sticks
All port taxes, gratuities, onboard local entertainment and cultural enrichment
Airport transfers on arrival and departure days
TWIN SHARE — CLASSIC STATEROOM
16 Days from
Valued up to A$14,299
Inclusion highlights:
Inclusions valid for one person (twin share) – you MUST purchase TWO packages
15 nights of ultimate luxury in a Classic Stateroom onboard Uniworld's River Duchess
Daily all-inclusive gourmet breakfast, lunch and dinners as per itinerary
All-inclusive alcoholic drinks onboard
Welcome Dinner and Farewell Gala
Uniworld Cruise Manager and English-speaking crew members
All sightseeing and entrance fees as detailed in the itinerary
24-hour in-room service available throughout your cruise
24-hour concierge service available throughout your cruise
Complimentary Wi-Fi, bicycle and Nordic walking sticks
All port taxes, gratuities, onboard local entertainment and cultural enrichment
Airport transfers on arrival and departure days
TWIN SHARE — DELUXE STATEROOM (EARLY BIRD)
16 Days from
Valued up to A$15,599
Inclusion highlights:
Inclusions valid for one person (twin share) – you MUST purchase TWO packages
15 nights of ultimate luxury in a Deluxe Stateroom onboard Uniworld's River Duchess
Daily all-inclusive gourmet breakfast, lunch and dinners as per itinerary
All-inclusive alcoholic drinks onboard
Welcome Dinner and Farewell Gala
Uniworld Cruise Manager and English-speaking crew members
All sightseeing and entrance fees as detailed in the itinerary
24-hour in-room service available throughout your cruise
24-hour concierge service available throughout your cruise
Complimentary Wi-Fi, bicycle and Nordic walking sticks
All port taxes, gratuities, onboard local entertainment and cultural enrichment
Airport transfers on arrival and departure days
TWIN SHARE — DELUXE STATEROOM
16 Days from
Valued up to A$15,599
Inclusion highlights:
Inclusions valid for one person (twin share) – you MUST purchase TWO packages
15 nights of ultimate luxury in a Deluxe Stateroom onboard Uniworld's River Duchess
Daily all-inclusive gourmet breakfast, lunch and dinners as per itinerary
All-inclusive alcoholic drinks onboard
Welcome Dinner and Farewell Gala
Uniworld Cruise Manager and English-speaking crew members
All sightseeing and entrance fees as detailed in the itinerary
24-hour in-room service available throughout your cruise
24-hour concierge service available throughout your cruise
Complimentary Wi-Fi, bicycle and Nordic walking sticks
All port taxes, gratuities, onboard local entertainment and cultural enrichment
Airport transfers on arrival and departure days
TWIN SHARE — FRENCH BALCONY (EARLY BIRD)
16 Days from
Valued up to A$17,099
Inclusion highlights:
Inclusions valid for one person (twin share) – you MUST purchase TWO packages
15 nights of ultimate luxury in a French Balcony onboard Uniworld's River Duchess
Daily all-inclusive gourmet breakfast, lunch and dinners as per itinerary
All-inclusive alcoholic drinks onboard
Welcome Dinner and Farewell Gala
Uniworld Cruise Manager and English-speaking crew members
All sightseeing and entrance fees as detailed in the itinerary
24-hour in-room service available throughout your cruise
24-hour concierge service available throughout your cruise
Complimentary Wi-Fi, bicycle and Nordic walking sticks
All port taxes, gratuities, onboard local entertainment and cultural enrichment
Airport transfers on arrival and departure days
TWIN SHARE — FRENCH BALCONY
16 Days from
Valued up to A$17,099
Inclusion highlights:
Inclusions valid for one person (twin share) – you MUST purchase TWO packages
15 nights of ultimate luxury in a French Balcony onboard Uniworld's River Duchess
Daily all-inclusive gourmet breakfast, lunch and dinners as per itinerary
All-inclusive alcoholic drinks onboard
Welcome Dinner and Farewell Gala
Uniworld Cruise Manager and English-speaking crew members
All sightseeing and entrance fees as detailed in the itinerary
24-hour in-room service available throughout your cruise
24-hour concierge service available throughout your cruise
Complimentary Wi-Fi, bicycle and Nordic walking sticks
All port taxes, gratuities, onboard local entertainment and cultural enrichment
Airport transfers on arrival and departure days
SOLO TRAVELLER — CLASSIC STATEROOM (EARLY BIRD)
16 Days from
Valued up to A$20,584
Inclusion highlights:
Package valid for one person (solo traveller)
15 nights of ultimate luxury in a Classic Stateroom onboard Uniworld's River Duchess
Daily all-inclusive gourmet breakfast, lunch and dinners as per itinerary
All-inclusive alcoholic drinks onboard
Welcome Dinner and Farewell Gala
Uniworld Cruise Manager and English-speaking crew members
All sightseeing and entrance fees as detailed in the itinerary
24-hour in-room service available throughout your cruise
24-hour concierge service available throughout your cruise
Complimentary Wi-Fi, bicycle and Nordic walking sticks
All port taxes, gratuities, onboard local entertainment and cultural enrichment
Airport transfers on arrival and departure days
TWIN SHARE — SUITE (EARLY BIRD)
16 Days from
Valued up to A$21,599
Inclusion highlights:
Inclusions valid for one person (twin share) – you MUST purchase TWO packages
15 nights of ultimate luxury in a lavishly appointed Suite onboard Uniworld's River Duchess
Daily all-inclusive gourmet breakfast, lunch and dinners as per itinerary
All-inclusive alcoholic drinks onboard
Welcome Dinner and Farewell Gala
Uniworld Cruise Manager and English-speaking crew members
All sightseeing and entrance fees as detailed in the itinerary
24-hour in-room service available throughout your cruise
24-hour concierge service available throughout your cruise
Complimentary Wi-Fi, bicycle and Nordic walking sticks
All port taxes, gratuities, onboard local entertainment and cultural enrichment
Airport transfers on arrival and departure days
SOLO TRAVELLER — CLASSIC STATEROOM
16 Days from
Valued up to A$20,584
Inclusion highlights:
Package valid for one person (solo traveller)
15 nights of ultimate luxury in a Classic Stateroom onboard Uniworld's River Duchess
Daily all-inclusive gourmet breakfast, lunch and dinners as per itinerary
All-inclusive alcoholic drinks onboard
Welcome Dinner and Farewell Gala
Uniworld Cruise Manager and English-speaking crew members
All sightseeing and entrance fees as detailed in the itinerary
24-hour in-room service available throughout your cruise
24-hour concierge service available throughout your cruise
Complimentary Wi-Fi, bicycle and Nordic walking sticks
All port taxes, gratuities, onboard local entertainment and cultural enrichment
Airport transfers on arrival and departure days
SOLO TRAVELLER — DELUXE STATEROOM (EARLY BIRD)
16 Days from
Valued up to A$22,534
Inclusion highlights:
Package valid for one person (solo traveller)
15 nights of ultimate luxury in a Deluxe Stateroom onboard Uniworld's River Duchess
Daily all-inclusive gourmet breakfast, lunch and dinners as per itinerary
All-inclusive alcoholic drinks onboard
Welcome Dinner and Farewell Gala
Uniworld Cruise Manager and English-speaking crew members
All sightseeing and entrance fees as detailed in the itinerary
24-hour in-room service available throughout your cruise
24-hour concierge service available throughout your cruise
Complimentary Wi-Fi, bicycle and Nordic walking sticks
All port taxes, gratuities, onboard local entertainment and cultural enrichment
Airport transfers on arrival and departure days
16 Days from
Valued up to A$21,599
Inclusion highlights:
Inclusions valid for one person (twin share) – you MUST purchase TWO packages
15 nights of ultimate luxury in a lavishly appointed Suite onboard Uniworld's River Duchess
Daily all-inclusive gourmet breakfast, lunch and dinners as per itinerary
All-inclusive alcoholic drinks onboard
Welcome Dinner and Farewell Gala
Uniworld Cruise Manager and English-speaking crew members
All sightseeing and entrance fees as detailed in the itinerary
24-hour in-room service available throughout your cruise
24-hour concierge service available throughout your cruise
Complimentary Wi-Fi, bicycle and Nordic walking sticks
All port taxes, gratuities, onboard local entertainment and cultural enrichment
Airport transfers on arrival and departure days
SOLO TRAVELLER — DELUXE STATEROOM
16 Days from
Valued up to A$22,534
Inclusion highlights:
Package valid for one person (solo traveller)
15 nights of ultimate luxury in a Deluxe Stateroom onboard Uniworld's River Duchess
Daily all-inclusive gourmet breakfast, lunch and dinners as per itinerary
All-inclusive alcoholic drinks onboard
Welcome Dinner and Farewell Gala
Uniworld Cruise Manager and English-speaking crew members
All sightseeing and entrance fees as detailed in the itinerary
24-hour in-room service available throughout your cruise
24-hour concierge service available throughout your cruise
Complimentary Wi-Fi, bicycle and Nordic walking sticks
All port taxes, gratuities, onboard local entertainment and cultural enrichment
Airport transfers on arrival and departure days
SOLO TRAVELLER — FRENCH BALCONY
16 Days from
Valued up to A$24,784
Inclusion highlights:
Package valid for one person (solo traveller)
15 nights of ultimate luxury in a French Balcony onboard Uniworld's River Duchess
Daily all-inclusive gourmet breakfast, lunch and dinners as per itinerary
All-inclusive alcoholic drinks onboard
Welcome Dinner and Farewell Gala
Uniworld Cruise Manager and English-speaking crew members
All sightseeing and entrance fees as detailed in the itinerary
24-hour in-room service available throughout your cruise
24-hour concierge service available throughout your cruise
Complimentary Wi-Fi, bicycle and Nordic walking sticks
All port taxes, gratuities, onboard local entertainment and cultural enrichment
Airport transfers on arrival and departure days