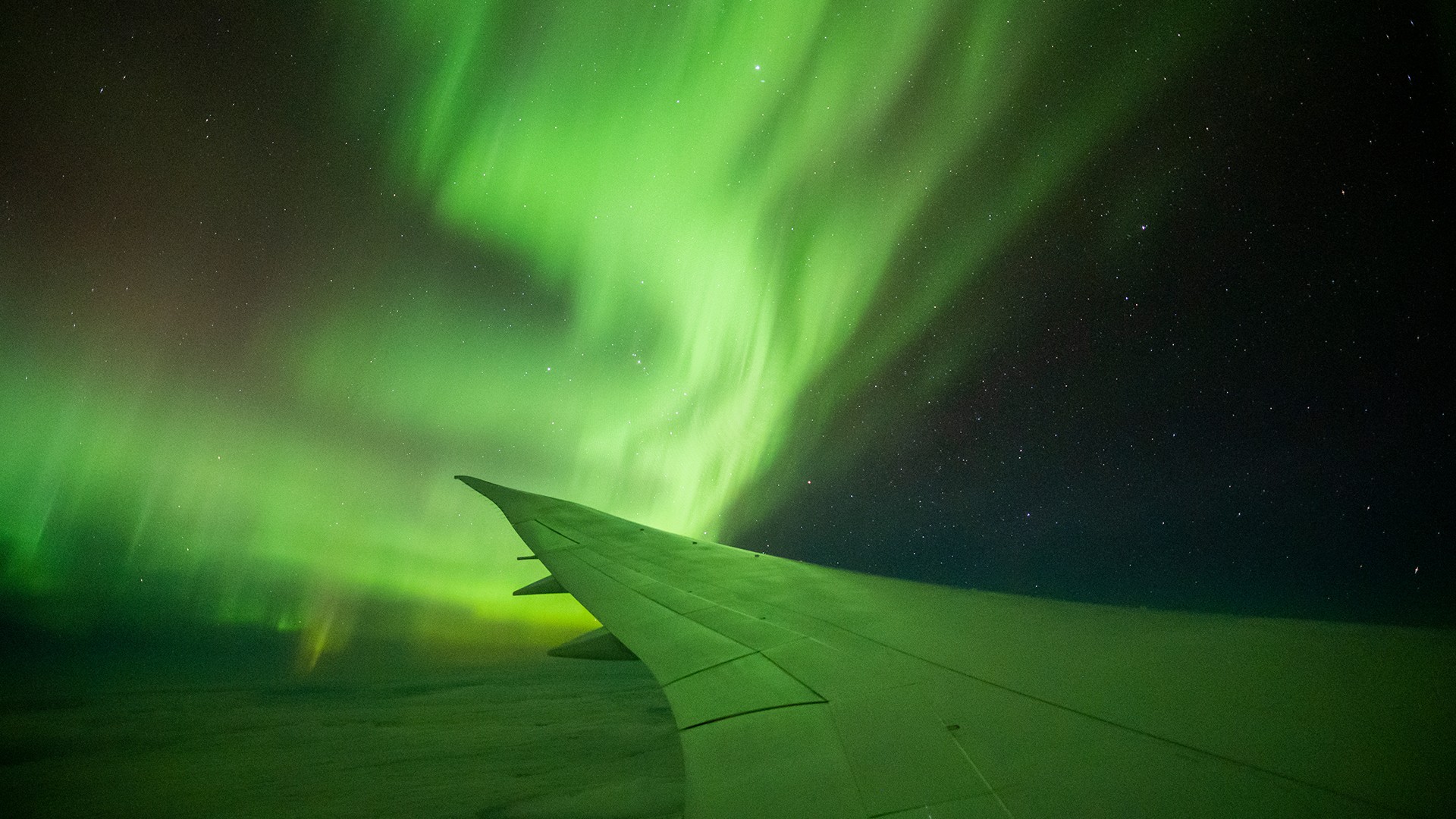 Southern Lights: Once-in-a-Lifetime Air New Zealand Scenic Flight from Christchurch with Onboard Astronomers & Full-Service Drinks & Dining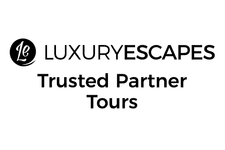 Be entranced by the incredible natural phenomenon of the Southern Lights (Aurora Australis) and its surrounding constellations, stars, planets and other wonders on this once-in-a-lifetime scenic flight departing New Zealand. Departing from Christchurch, soar over the Southern Ocean on an unforgettable journey towards Antarctica, with New Zealand's most experienced and knowledgeable astronomers and educators accompanying you into the incredible auroral zone.
Seek out the perfect shot as an ethereal spectacle of flickering shades of green, blue, purple and red illuminate the pitch-black sky around you, while your team of experts provides a fascinating insight into the science of the magnificent Aurora. Onboard an Air New Zealand Boeing 787 Dreamliner, you'll be able to celebrate your surreal adventure in style with comfortable seating, two full-service meals, and full bar service. What's more, you can ensure your memories live on through images of the spectacular skyscapes, as onboard professional astrophotographers guide you on how best to use your camera during the experience. This unique opportunity is not to be missed.
Your tour includes:
Comfortable seating onboard an Air New Zealand Boeing 787 Dreamliner, departing from Christchurch
Spectacular views during an unforgettable roundtrip
Relax with two full-service meals plus in-flight snacks onboard
Celebrate your adventure with full bar service onboard, including sparkling, wine, beer, spirits and soft drinks
Choose your viewing on the in-seat entertainment system
Learn about the Aurora and how it is formed with an expert team of astronomers onboard
Take home incredible photos thanks to the guidance of an expert onboard photographer
Get a better understanding of your mission to the Aurora Australis with a pre-flight program hosted at the International Antarctic Centre
One complimentary Southern Lights by Flight t-shirt, hat or beanie per guest
Your journey takes you to: Christchurch, New Zealand — Auroral Zone — Christchurch, New Zealand.
Seat-Swap Upgrade: Upgrade to an Economy Class (Wing), Economy Class (No Wing) or Premium Economy Class seat and enjoy a seat-swap system guarantee, with ample time in one of the two seats closest to the windows.
IMPORTANT: Each package is valid for ONE PERSON. Each traveller must purchase a package. If you select Economy Class (Skycouch) – Twin Share, this is valid for one person (twin share), meaning you MUST purchase TWO packages.
Book with Confidence: We work directly with our trusted partners and provide 24/7 customer service to ensure that no matter what happens, we're here to help. If your escape is affected by Covid-19 restrictions, we will do our best to assist you with a date change or provide you with a Luxury Escapes credit for another Limited Time Lux Exclusive accommodation, tour or cruise offer, less any unrecoverable costs; excludes flights. Find out more.
Time limited offer
1 Day from
Includes taxes & fees
Person
holiday Options
Economy Class (Limited View)
1 Day from
Includes taxes & fees
Sold out
Inclusion highlights:
Package valid for one person. Each passenger must purchase a package.
Economy Class (Limited View) Seat: Savour the experience and feel free to stand in the aisles and common areas to enjoy the views of Aurora Australis. Please note Economy Class (Limited View) seats do not have direct access to a window or have only partial window access.
Air New Zealand Boeing 787 Dreamliner scenic flight from Christchurch
Spectacular views during an unforgettable roundtrip
Relax with two full-service meals plus in-flight snacks onboard
Celebrate your adventure with full bar service onboard, including sparkling, wine , beer, spirits and soft drinks
Choose your viewing on the in-seat entertainment system
Learn about the Aurora and how it is formed with an expert team of astronomers onboard
Take home incredible photos thanks to the guidance of an expert onboard photographer
Get a better understanding of your mission to the Aurora Australis with a pre-flight program hosted at the International Antarctic Centre
Remember your experience with a complimentary Southern Lights by Flight t-shirt, hat or beanie
1 Day from
Includes taxes & fees
Sold out
Inclusion highlights:
Package valid for one person. Each passenger must purchase a package.
Economy Class (Wing) Seat: Overlooking the wing, with an obstructed view of the night sky, these ergonomic seats are often preferred by photographers, as they offer a great perspective in image and video.
Seat-swap system guarantees ample time in one of the two seats closest to the windows
Air New Zealand Boeing 787 Dreamliner scenic flight from Christchurch
Spectacular views during an unforgettable roundtrip
Relax with two full-service meals plus in-flight snacks onboard
Celebrate your adventure with full bar service onboard, including sparkling, wine , wine, beer, spirits and soft drinks
Choose your viewing on the in-seat entertainment system
Learn about the Aurora and how it is formed with an expert team of astronomers onboard
Take home incredible photos thanks to the guidance of an expert onboard photographer
Get a better understanding of your mission to the Aurora Australis with a pre-flight program hosted at the International Antarctic Centre
Remember your experience with a complimentary Southern Lights by Flight t-shirt, hat or beanie
1 Day from
Includes taxes & fees
Sold out
Inclusion highlights:
Package valid for one person. Each passenger must purchase a package.
Economy Class (No Wing) Seat: Enjoy unobstructed views of the night sky from an ergonomic seat, where nothing comes between you and incredible views of the magical night sky.
Seat-swap system guarantees ample time in one of the two seats closest to the windows
Air New Zealand Boeing 787 Dreamliner scenic flight from Christchurch
Spectacular views during an unforgettable roundtrip
Relax with two full-service meals plus in-flight snacks onboard
Celebrate your adventure with full bar service onboard, including sparkling, wine , wine, beer, spirits and soft drinks
Choose your viewing on the in-seat entertainment system
Learn about the Aurora and how it is formed with an expert team of astronomers onboard
Take home incredible photos thanks to the guidance of an expert onboard photographer
Get a better understanding of your mission to the Aurora Australis with a pre-flight program hosted at the International Antarctic Centre
Remember your experience with a complimentary Southern Lights by Flight t-shirt, hat or beanie
Economy Class (Skycouch) – Twin Share
1 Day from
Includes taxes & fees
Sold out
Inclusion highlights:
Packages valid for one person (twin share) – you MUST purchase TWO packages
Economy Class (Skycouch) Seat: Imagine a row of Economy Class seats that can change into a couch after take-off. Share the space with a partner or child, or keep it all for yourself in this award-winning experience limited to two people.
Air New Zealand Boeing 787 Dreamliner scenic flight from Christchurch
Spectacular views during an unforgettable roundtrip
Relax with two full-service meals plus in-flight snacks onboard
Celebrate your adventure with full bar service onboard, including sparkling, wine , beer, spirits and soft drinks
Choose your viewing on the in-seat entertainment system
Learn about the Aurora and how it is formed with an expert team of astronomers onboard
Take home incredible photos thanks to the guidance of an expert onboard photographer
Get a better understanding of your mission to the Aurora Australis with a pre-flight program hosted at the International Antarctic Centre
Remember your experience with a complimentary Southern Lights by Flight t-shirt, hat or beanie
1 Day from
Includes taxes & fees
Sold out
Inclusion highlights:
Package valid for one person. Each passenger must purchase a package.
Premium Economy Seat: Situated in an intimate separate cabin, these luxuriously soft and roomy leather seats allow room to stretch out and relax. Experience attentive service and a refreshing menu with an extensive wine list, all while enjoying magnificent uninterrupted views of the Aurora Australis from large windows.
Seat-swap system guarantees ample time in one of the two seats closest to the windows
Air New Zealand Boeing 787 Dreamliner scenic flight from Christchurch
Spectacular views during an unforgettable roundtrip
Relax with two full-service meals plus in-flight snacks onboard
Celebrate your adventure with full bar service onboard, including sparkling, wine , wine, beer, spirits and soft drinks
Choose your viewing on the in-seat entertainment system
Learn about the Aurora and how it is formed with an expert team of astronomers onboard
Take home incredible photos thanks to the guidance of an expert onboard photographer
Get a better understanding of your mission to the Aurora Australis with a pre-flight program hosted at the International Antarctic Centre
Remember your experience with a complimentary Southern Lights by Flight t-shirt, hat or beanie