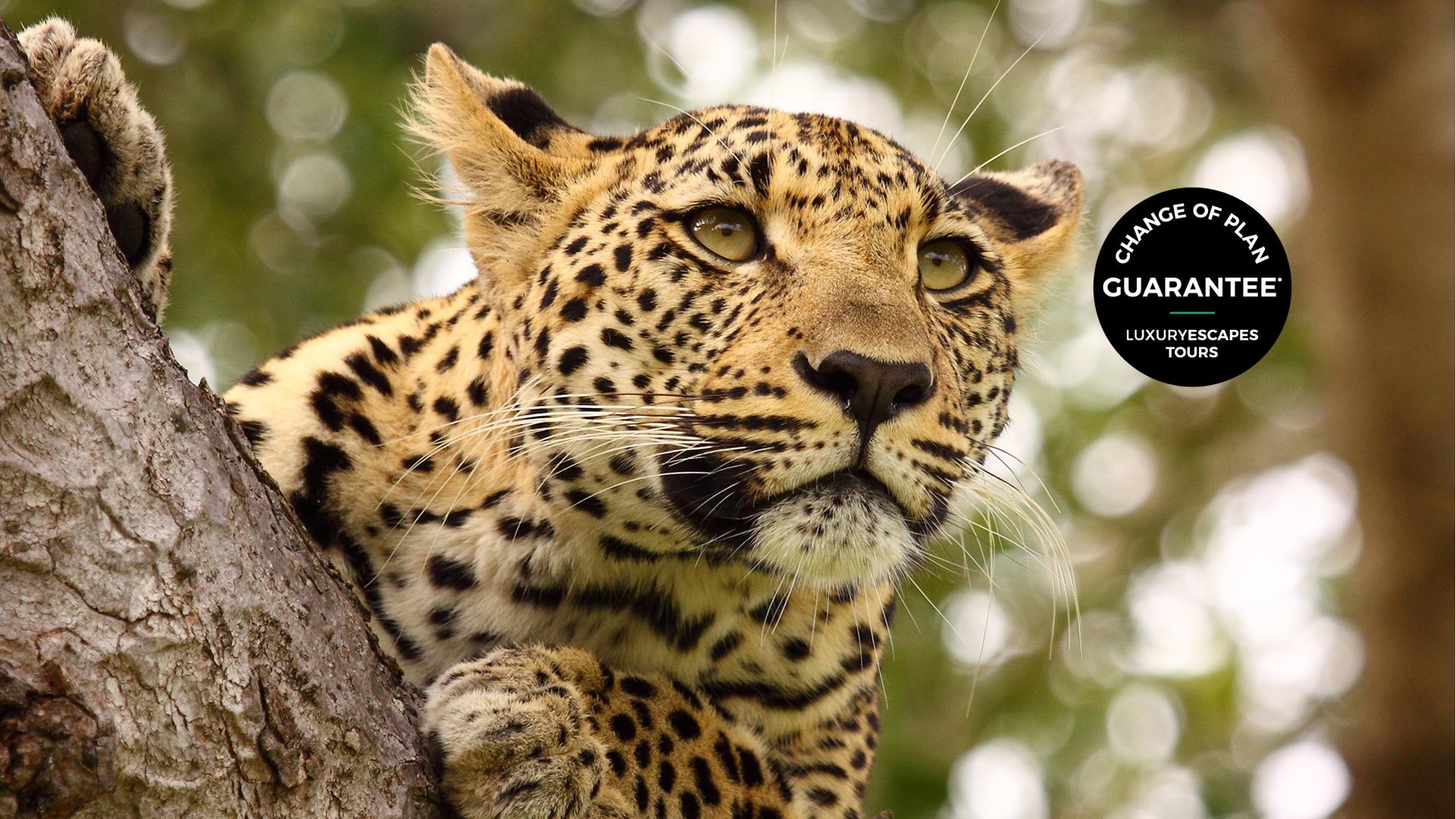 South Africa: 15-Day Tour from Johannesburg to Cape Town with Kruger Safari & Garden Route Road Trip
Home to iconic wildlife, captivating cultures, spectacular scenery and intricate history, South Africa is a diverse land full of unfiltered, unforgettable experiences. Discover it in all its glory on this 15-day tour, taking you on a journey from Johannesburg to Cape Town through some of South Africa's most captivating landscapes.
You will soon see what makes South Africa unmissable as you embark on the journey of a lifetime along the spectacular Garden Route, learn about Johannesburg's apartheid history and take a game drive through Kruger National Park, home to Africa's iconic species – elephant, lion, leopard, cheetah, rhino, buffalo, giraffe, hippo and zebra. Experience this one-of-a-kind destination like never before, as you visit the impressive 300-foot Howick Falls, see Nelson Mandela's birthplace and descend into the breathtaking Cango Caves, one of South Africa's great natural wonders.
Your tour includes:
14 nights accommodation — including a stay on the banks of the Sabie River, one night nestled between the Hluhluwe Game Reserve and the Greater St. Lucia Wetland Park and one night at Protea Hotel Fire & Ice! by Marriott Durban Umhlanga Ridge
Daily breakfast and four dinners
Road trip South Africa's iconic Garden Route, from Knysna to Cape Town
Morning game drive through Kruger National Park
Partake in an interactive cultural experience in Esatwini (Swaziland)
See Durban's Golden Mile, Beach Front Promenade, Point Waterfront and Botanic Gardens
Visit the impressive 300-foot-high Howick Falls in the Southern Drakensberg Mountains
See Nelson Mandela's birthplace and house on the Eastern Cape
Visit a working ostrich farm and descend into the Cango Caves
Stop at a local aloe factory in Albertinia, in the heart of Aloe Ferox country
Sightseeing and entrance fees as per the itinerary
Air-conditioned transportation and transfers as per the itinerary
The services of an expert, English-speaking guide
Your journey takes you to: Johannesburg — Mpumalanga — Kruger National Park — Eswatini — St Lucia — Durban — Drakensberg — Eastern Cape — Tsitsikamma — Knysna — Oudtshoorn — Mossel Bay — Cape Town.
Book with confidence: Our Change of Plan Guarantee will permit you to alter your booking, no questions asked up to 90 days before departure. Furthermore, if you are unable to travel as a result of Government travel restrictions, Luxury Escapes will assist you with a date change, provide you with a credit or process a refund for your booking less any non-recoverable costs. See Fine Print for details.
Time limited offer
15 Days from
Twin Share
Valued up to A$2,719
holiday Options
2021 TWIN SHARE — LOW SEASON
15 Days from
Valued up to A$2,719
Sold out
Inclusion highlights:
Inclusions valid for one person (twin share) — You MUST purchase TWO packages
14 nights accommodation — including a stay on the banks of the Sabie River, one night nestled between the Hluhluwe Game Reserve and the Greater St. Lucia Wetland Park and one night at Protea Hotel Fire & Ice! by Marriott Durban Umhlanga Ridge
Daily breakfast and four dinners
Road trip South Africa's iconic Garden Route, from Knysna to Cape Town
Morning game drive through Kruger National Park
Partake in an interactive cultural experience in Esatwini (Swaziland)
Explore Durban's Golden Mile, Beach Front Promenade, Point Waterfront and Botanic Gardens
Visit the impressive 300-foot-high Howick Falls in the magnificent Southern Drakensberg Mountains
See Nelson Mandela's birthplace and house on the Eastern Cape
Visit a working ostrich farm and descend into the Cango Caves, one of South Africa's great natural wonders
Stop at a local aloe factory in Albertinia, in the heart of Aloe Ferox country
Sightseeing and entrance fees as per the itinerary
Air-conditioned transportation and transfers as per the itinerary
The services of an expert, English-speaking guide
2022 TWIN SHARE — HIGH SEASON
15 Days from
Valued up to A$31,163
Sold out
Inclusion highlights:
Inclusions valid for one person (twin share) — You MUST purchase TWO packages
14 nights accommodation — including a stay on the banks of the Sabie River, one night nestled between the Hluhluwe Game Reserve and the Greater St. Lucia Wetland Park and one night at Protea Hotel Fire & Ice! by Marriott Durban Umhlanga Ridge
Daily breakfast and four dinners
Road trip South Africa's iconic Garden Route, from Knysna to Cape Town
Morning game drive through Kruger National Park
Partake in an interactive cultural experience in Esatwini (Swaziland)
Explore Durban's Golden Mile, Beach Front Promenade, Point Waterfront and Botanic Gardens
Visit the impressive 300-foot-high Howick Falls in the magnificent Southern Drakensberg Mountains
See Nelson Mandela's birthplace and house on the Eastern Cape
Visit a working ostrich farm and descend into the Cango Caves, one of South Africa's great natural wonders
Stop at a local aloe factory in Albertinia, in the heart of Aloe Ferox country
Sightseeing and entrance fees as per the itinerary
Air-conditioned transportation and transfers as per the itinerary
The services of an expert, English-speaking guide
2022 TWIN SHARE — PEAK SEASON
15 Days from
Valued up to A$2,911
Sold out
Inclusion highlights:
Inclusions valid for one person (twin share) — You MUST purchase TWO packages
14 nights accommodation — including a stay on the banks of the Sabie River, one night nestled between the Hluhluwe Game Reserve and the Greater St. Lucia Wetland Park and one night at Protea Hotel Fire & Ice! by Marriott Durban Umhlanga Ridge
Daily breakfast and four dinners
Road trip South Africa's iconic Garden Route, from Knysna to Cape Town
Morning game drive through Kruger National Park
Partake in an interactive cultural experience in Esatwini (Swaziland)
Explore Durban's Golden Mile, Beach Front Promenade, Point Waterfront and Botanic Gardens
Visit the impressive 300-foot-high Howick Falls in the magnificent Southern Drakensberg Mountains
See Nelson Mandela's birthplace and house on the Eastern Cape
Visit a working ostrich farm and descend into the Cango Caves, one of South Africa's great natural wonders
Stop at a local aloe factory in Albertinia, in the heart of Aloe Ferox country
Sightseeing and entrance fees as per the itinerary
Air-conditioned transportation and transfers as per the itinerary
The services of an expert, English-speaking guide
2021 SOLO TRAVELLER — LOW SEASON
15 Days from
Valued up to A$3,417
Sold out
Inclusion highlights:
Inclusions valid for one person (solo traveller)
14 nights accommodation — including a stay on the banks of the Sabie River, one night nestled between the Hluhluwe Game Reserve and the Greater St. Lucia Wetland Park and one night at Protea Hotel Fire & Ice! by Marriott Durban Umhlanga Ridge
Daily breakfast and four dinners
Road trip South Africa's iconic Garden Route, from Knysna to Cape Town
Morning game drive through Kruger National Park
Partake in an interactive cultural experience in Esatwini (Swaziland)
Explore Durban's Golden Mile, Beach Front Promenade, Point Waterfront and Botanic Gardens
Visit the impressive 300-foot-high Howick Falls in the magnificent Southern Drakensberg Mountains
See Nelson Mandela's birthplace and house on the Eastern Cape
Visit a working ostrich farm and descend into the Cango Caves, one of South Africa's great natural wonders
Stop at a local aloe factory in Albertinia, in the heart of Aloe Ferox country
Sightseeing and entrance fees as per the itinerary
Air-conditioned transportation and transfers as per the itinerary
The services of an expert, English-speaking guide
2022 SOLO TRAVELLER — HIGH SEASON
15 Days from
Valued up to A$3,624
Sold out
Inclusion highlights:
Inclusions valid for one person (solo traveller)
14 nights accommodation — including a stay on the banks of the Sabie River, one night nestled between the Hluhluwe Game Reserve and the Greater St. Lucia Wetland Park and one night at Protea Hotel Fire & Ice! by Marriott Durban Umhlanga Ridge
Daily breakfast and four dinners
Road trip South Africa's iconic Garden Route, from Knysna to Cape Town
Morning game drive through Kruger National Park
Partake in an interactive cultural experience in Esatwini (Swaziland)
Explore Durban's Golden Mile, Beach Front Promenade, Point Waterfront and Botanic Gardens
Visit the impressive 300-foot-high Howick Falls in the magnificent Southern Drakensberg Mountains
See Nelson Mandela's birthplace and house on the Eastern Cape
Visit a working ostrich farm and descend into the Cango Caves, one of South Africa's great natural wonders
Stop at a local aloe factory in Albertinia, in the heart of Aloe Ferox country
Sightseeing and entrance fees as per the itinerary
Air-conditioned transportation and transfers as per the itinerary
The services of an expert, English-speaking guide
2022 SOLO TRAVELLER — PEAK SEASON
15 Days from
Valued up to A$3,759
Sold out
Inclusion highlights:
Inclusions valid for one person (solo traveller)
14 nights accommodation — including a stay on the banks of the Sabie River, one night nestled between the Hluhluwe Game Reserve and the Greater St. Lucia Wetland Park and one night at Protea Hotel Fire & Ice! by Marriott Durban Umhlanga Ridge
Daily breakfast and four dinners
Road trip South Africa's iconic Garden Route, from Knysna to Cape Town
Morning game drive through Kruger National Park
Partake in an interactive cultural experience in Esatwini (Swaziland)
Explore Durban's Golden Mile, Beach Front Promenade, Point Waterfront and Botanic Gardens
Visit the impressive 300-foot-high Howick Falls in the magnificent Southern Drakensberg Mountains
See Nelson Mandela's birthplace and house on the Eastern Cape
Visit a working ostrich farm and descend into the Cango Caves, one of South Africa's great natural wonders
Stop at a local aloe factory in Albertinia, in the heart of Aloe Ferox country
Sightseeing and entrance fees as per the itinerary
Air-conditioned transportation and transfers as per the itinerary
The services of an expert, English-speaking guide