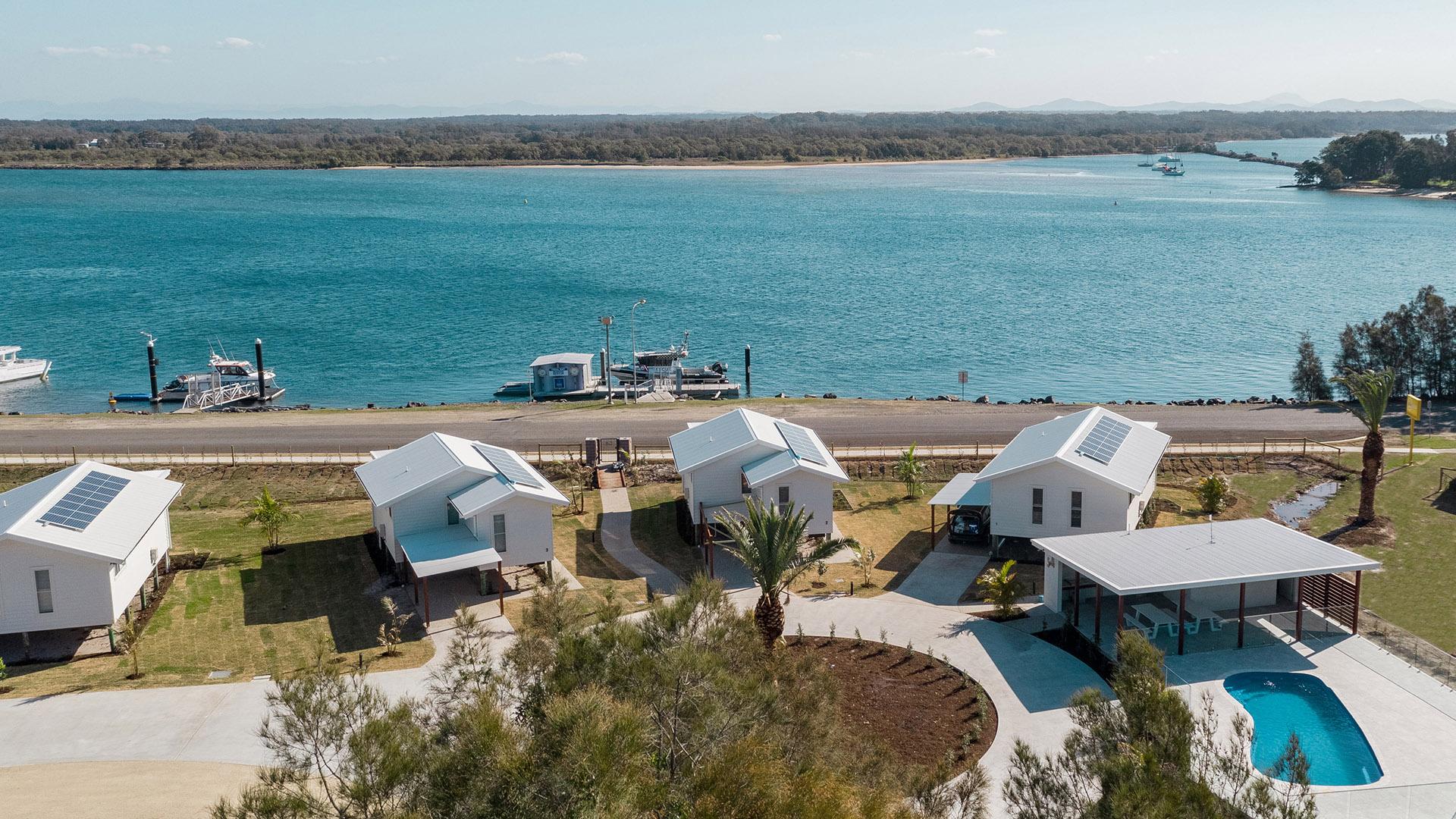 South West Rocks, New South Wales • view map
Salt at South West Rocks
Self-Contained South West Rocks Waterfront Villas with Stunning River Views

Discover the unspoilt golden shores and grand heritage of South West Rocks with a stay at the luxurious Salt at South West Rocks, recently expanded and reopened in November 2020 to include brand-new waterfront villas. Nestled amid native bushland, in an unbeatable location on the banks of the Macleay River – just over an hour from Port Maquarie, these exclusive villas sit in a private gated community with impeccable shared facilities. 16 beautifully appointed villas are lined up along the riverbank and evoke an elegant beach-house aesthetic. When you're not cooking up a storm in your villa's fully equipped kitchen, dine alfresco using the onsite BBQ facilities, take a dip in the onsite pool, relax on your private deck or go cycling along the river.
Fringed by wilderness and perched on the edge of a beautiful river, with activities aplenty along the waterway — think fishing, snorkelling and historic sites just waiting to be discovered — South West Rocks is a serene launchpad to NSW's coastal beauty, renowned surf beaches and dramatic scenery.
Your handpicked inclusions:
Toast your coastal escape with a welcome bottle of wine
Explore the region with ease thanks to daily bicycle hire per person
Travelling as a group? Upgrade to a Two-Bedroom Villa for up to four guests or a Three-Bedroom Villa for up to six.
holiday Options
Select your holiday type
One-Bedroom Villa
Relax in these bright, elegant coastal chic villas, with a private furnished balcony overlooking the waterfront and a fully equipped kitchen
Room Size: 74 m²
Inclusion highlights:
Welcome bottle of wine
Daily bicycle hire
Inclusions valid for up to two guests
Two-Bedroom Villa
Enjoy plenty of room to move in these spacious two-bedroom luxury villas, featuring a fully equipped kitchen, two generous bedrooms and a furnished deck overlooking the river
Room Size: 81 m²
Inclusion highlights:
Inclusions valid for up to four guests
Welcome bottle of wine
Daily bicycle hire
Three-Bedroom Villa
Unwind amid beach-chic style in these extra-spacious three-bedroom villas, featuring a furnished river-facing deck, large living area and high-quality fixtures
Room Size: 100 m²
Inclusion highlights:
Inclusions valid for up to six guests
Welcome bottle of wine
Daily bicycle hire
TWO-BEDROOM UPGRADE (EASY ACCESSIBLE)
Two-Bedroom Villa Easy Accessible
Relax in these spacious two-bedroom luxury villas, specifically modified for wheelchair access and use with a wheelchair lift, low-set light switches, plenty of access space plus a wide-fitted bathroom with hand rails and accessible taps
Room Size: 79 m²
Inclusion highlights:
Welcome bottle of wine
Daily bicycle hire
Inclusions valid for up to four guests
THREE-BEDROOM UPGRADE (EASY ACCESSIBLE)
Three-Bedroom Villa Easy Accessible
Unwind in beach-chic style in these extra-spacious three-bedroom villas, specifically modified for wheelchair access and use with a wheelchair lift, low-set light switches, plenty of access space plus a wide-fitted bathroom with hand rails and accessible taps
Room Size: 100 m²
Inclusion highlights:
Inclusions valid for up to six guests
Welcome bottle of wine
Daily bicycle hire