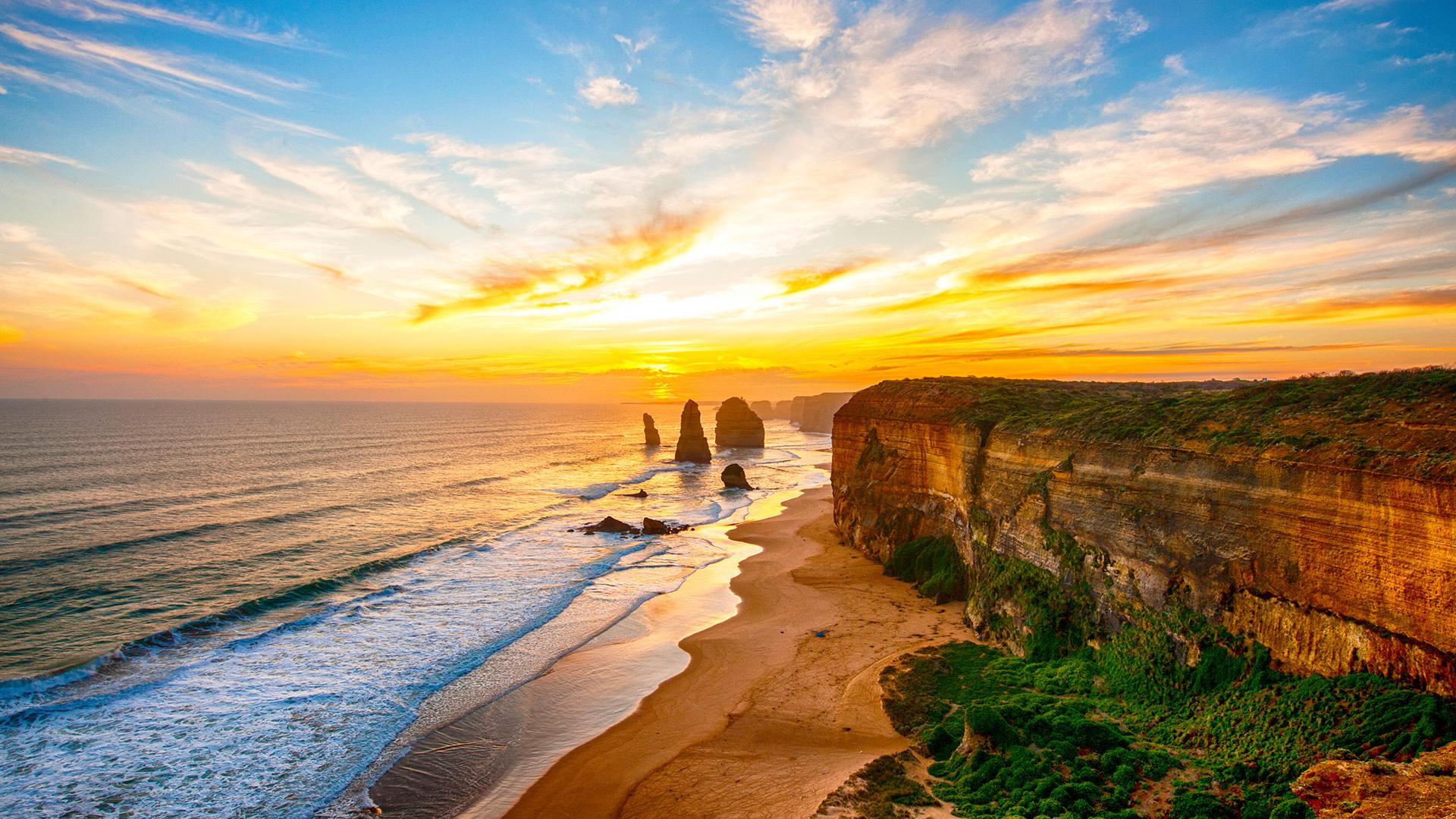 Great Ocean Road: 3-Day Small-Group Gourmet Tour with Twelve Apostles & Luxury Boutique Accommodation
Taste your way through regional Victoria on a three-day small-group gourmet tour (max. eight travellers) along the majestic Great Ocean Road. Discover the delights of artisan local producers, indulging in a whisky and spirit tasting, freshly churned ice cream, handmade cheeses, Belgian chocolates and so much more, enjoying the beautiful backdrop of Victoria's quaint coastal towns along the way.
Your foodie adventure is complemented by a sunset trip to the Twelve Apostles, the Great Ocean Road's most iconic natural wonder. Watch the sky change colour behind the mystical limestone stacks that rise from the ocean, creating the perfect picture opportunity to commemorate your trip. Enjoy luxury accommodation in the rural town of Cobden throughout, spending two nights at Heytesbury House, a boutique B&B with old-world English charm and wonderful landscaped gardens. Known as the 'Dairy Capital of the World' thanks to its rich farmland, Cobden is a peaceful base and your gateway to the Great Ocean Road.
Your tour includes:
Two nights luxury boutique accommodation at Heytesbury House in Cobden
Daily breakfast, one lunch, two dinners and a multitude of gourmet tastings per itinerary
Welcome drink and canapés on the evening of arrival
Two-course dinner with a glass of sparkling wine, local ale, local cider or soft drink
Visit and tasting at Dairylicious Farm Fudge
Whisky tasting plus select additional spirit tastings at Timboon Railway Shed Distillery
Churn your own ice cream and create a sundae at Timboon Fine Ice Cream
Visit Gorge Chocolates, The Big Nut and Alpaca Farm for a tasting and alpaca experience
Try 12 handmade cheeses at Apostle Whey Cheese
Watch the sunset at the majestic Twelve Apostles
Head to Port Campbell for a beer tasting paddle and pizza at Sow and Piglets Brewery
Relax with Devonshire morning tea on the day of departure
Transportation in a luxury private vehicle throughout the tour
The services of an expert local driver-guide
Your journey takes you to: Cobden — Timboon — Great Ocean Road — Cobden.
Book with confidence: If you are unable to travel as a result of Government travel restrictions, Luxury Escapes will assist you with a date change, provide you with a credit or process a refund for your booking less any non-recoverable costs. See Fine Print for details.
Time limited offer
3 Days from
Twin Share
Valued up to A$1,200
holiday Options
3 Days from
Valued up to A$1,200
Sold out
Inclusion highlights:
Package valid for one person (twin-share) — You MUST purchase TWO packages
Two nights luxury boutique accommodation at Heytesbury House in Cobden
Daily breakfast, one lunch, two dinners and a multitude of gourmet tastings per itinerary
Welcome drink and canapés on the evening of arrival
Two-course dinner with a glass of sparkling wine, local ale, local cider or soft drink
Visit and tasting at Dairylicious Farm Fudge
Whisky tasting plus select additional spirit tastings at Timboon Railway Shed Distillery
Churn your own ice cream and create a sundae at Timboon Fine Ice Cream
Visit Gorge Chocolates, The Big Nut and Alpaca Farm for a tasting and alpaca experience
Try 12 handmade cheeses at Apostle Whey Cheese
Watch the sunset at the majestic Twelve Apostles
Head to Port Campbell for a beer tasting paddle and pizza at Sow and Piglets Brewery
Relax with Devonshire morning tea on the day of departure
Transportation in a luxury private vehicle throughout the tour
The services of an expert local driver-guide
3 Days from
Valued up to A$1,475
Sold out
Inclusion highlights:
Package valid for one person (solo traveller)
Two nights luxury boutique accommodation at Heytesbury House in Cobden
Daily breakfast, one lunch, two dinners and a multitude of gourmet tastings per itinerary
Welcome drink and canapés on the evening of arrival
Two-course dinner with a glass of sparkling wine, local ale, local cider or soft drink
Visit and tasting at Dairylicious Farm Fudge
Whisky tasting plus select additional spirit tastings at Timboon Railway Shed Distillery
Churn your own ice cream and create a sundae at Timboon Fine Ice Cream
Visit Gorge Chocolates, The Big Nut and Alpaca Farm for a tasting and alpaca experience
Try 12 handmade cheeses at Apostle Whey Cheese
Watch the sunset at the majestic Twelve Apostles
Head to Port Campbell for a beer tasting paddle and pizza at Sow and Piglets Brewery
Relax with Devonshire morning tea on the day of departure
Transportation in a luxury private vehicle throughout the tour
The services of an expert local driver-guide